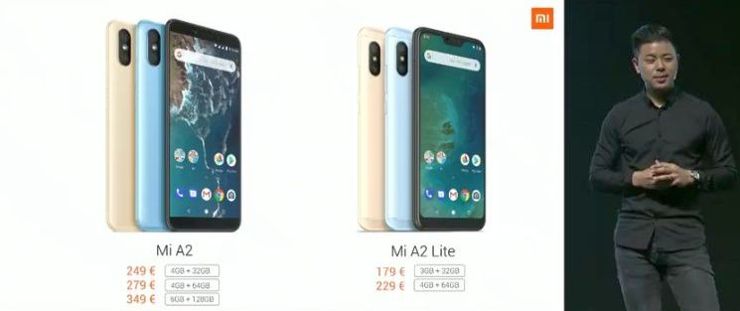 photo: Xiaomi na YouTube
Xiaomi today presented in Madrid two new models: Xiaomi Mi A2 and Xiaomi Mi A2 Lite.
We already knew all about these phones a few days before the launch, so today we have only formal confirmation of their specifications and prices.
Xiaomi Mi A2
Xiaomi Mi A2 is a model from the Android One program, which in terms of equipment and appearance is the equivalent to the Xiaomi Mi 6X model, which has been available for some time, equipped with the MIUI interface. The same solution was found in the case of last year's Xiaomi Mi 5X and Mi A1.
Xiaomi Mi A2 A2 is equipped with a 5.99-inch Full HD+ display, an 8-core Snapdragon 660 processor and a 20-megapixel IMX376 selfie camera. The rear camera is dual and has 12 and 20 Mpx matrices (IMX486 f/1.75 and IMX376 f/1.75). The smartphone has an infrared transmitter and a fingerprint reader, but there is no NFC. For consolation, we get a battery with a decent 3000 mAh capacity. There are three memory options to choose from, and their prices look as follows:
4+32 GB - 249 euro
4+64 GB - 279 euro
6+128 GB - 349 euro
Xiaomi Mi A2 Lite
Xiaomi Mi A2 Lite is the second of the novelties announced today. It is a smartphone with a 5.84-inch Full HD+ screen, equipped with a notch, which makes it look a bit more modern and fashionable than Mi A2. In technical terms, this is the equivalent of the previously presented model Xiaomi Redmi 6 Pro, in which the MIUI interface gave way to the raw Android One.
The heart of Xiaomi Mi A2 Lite is the Snapdragon 625 processor, and the battery with a capacity of 4000 mAh corresponds to the power supply, which probably will prove to be one of the most important assets of this model. Similarly as in Mi A2, we will not experience NFC here, but we will be able to control various devices using a built-in infrared transmitter with a dedicated application. There are also three cameras, but with smaller matrices: the front has 5, while the back has 12+ 5 Mpx. For this model, Xiaomi proposes two versions of memory:
4+64 GB - 229 euro
3+32 GB - 179 euro
Source Xiaomi na YouTube