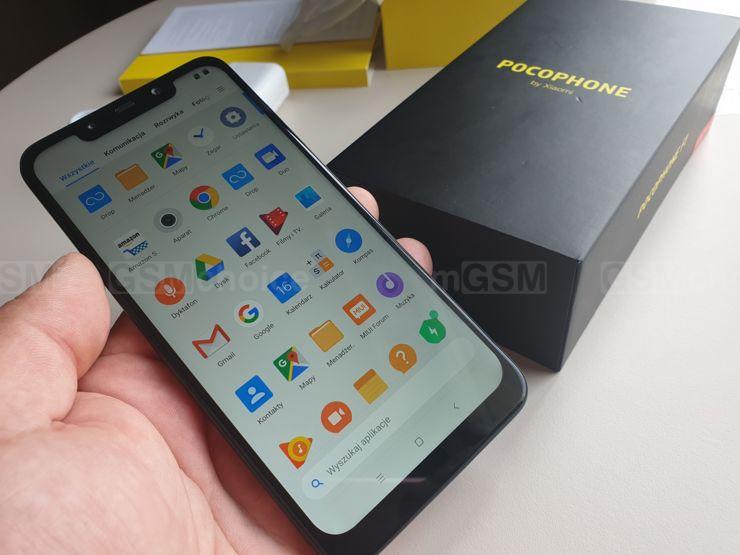 photo: Adam Łukowski/GSMchoice.com
In Paris today there was the European launch of the smartphone Poco F1, presented a few days ago in India by the Pocophone sub-brand belonging to Xiaomi.
Behind Pocpophone stands Jai Mani, previously working at Google, and for the past four years managing the Indian branch of Xiaomi. Poco is, however, to be a global brand, and its global representative and boss has been Alvin Tse, the head of the sales department at Xiaomi. "The word" Poco "means" small "because we believe that you have to start small things to be able to achieve great. As a Xiaomi submader, Pocophone can start from the beginning, focusing on the selection of such products and technologies that are proven", talks about the brand Jai Mani. Pocophone is targeting the segment of cheaper flagships, and the first model will compete mainly with OnePlus 6, although it will probably also receive some of the customers from the Mi8 model ...
It will not be a big exaggeration when I say that the debut model Poco F1 is probably the cheapest way to get a smartphone with a large memory and Snapdragon 845 processor. What's more, the processor is equipped with a liquid cooling system, which is - according to the manufacturer's instructions - much more effective than typical radiators. Internal research of the company indicates that this system is 300%. more effective than traditional non-liquid cooling systems. This is to ensure consistently high performance of the phone even at high load. And what does the rest of the specification look like?
Poco F1 has a 6.18-inch display and Full HD+ resolution and 500 nits brightness, protected by Gorilla Glass. The screen has narrow frames, but it also has a controversial notch that can be masked using the appropriate option in the software. The use of a plastic housing can be equally controversial as the indented screen. The manufacturer argues that it is pleasant to touch and comfortable, but it does not give the feeling of using the flagship phone. For consolation, Poco will offer F1 in the Armored Edition variant, with a Kevlar casing with increased durability. Meanwhile, the standard housing will be available in the colours of Graphite Black, Steel Blue and Rosso Red, and in the factory set we will find a silicone cover.
In Poco F1 you will also find stereo speakers with the Dirac HD Sound audio system, as well as a classic fingerprint reader and a face recognition system using infrared. Interestingly, this second option will be available only on selected markets and will appear when the system is updated. It was not announced when it would happen. For comfort I will mention that Poco F1 except USB-C still has a classic minijack, it also allows you to enlarge the memory with 256 GB microSD card, although unfortunately in a hybrid socket. Of course, we have European LTE bands, there are also two-band Wi-Fi and Bluetooth 5.0, but unfortunately NFC is missing.
Poco F1 has received a dual camera, with a 12-megapixel Sony Master IMX 363 main matrix, known for example from the Mi8 or Mi Mix 2S. The matrix has a 1.4 micrometer pixel and is hidden behind the f/1.9 lens. In the blurring of the background, it is supported by an additional matrix with a resolution of 5 megapixels. In turn, the front camera has 20 million pixels in a 1.8 micrometer size and a lens with f/2.0 brightness. Both the front and back camera use the effects of AI Portrait, AI Beautify, AI Scene Detection and HDR. Power is provided by a 4000 mAh battery with Quick Charge 3.0.
All this works under the control of MIUI 9.6, modified by Poco, based on Android Oreo. The introduction of the "Turbocharged engine" system optimization feature in the phone enables faster application launches, higher gaming performance, better touch response, and smoother frame display in animations. Poco Launcher is equipped, among others in a pull-out beam that allows the user to automatically group applications and find them easily, e.g. by colour. In the near future, an update to Android P. will also be released. The deadline is the fourth quarter of this year.
As for a model with a flagship specification, Poco F1 can be equipped with 6 or 8 GB of LPDDR4X DRAM memory and 64, 128 or 256 GB of internal memory UFS 2.1. The prices are as follows:
6+64 GB - 329 euro.
6+128 GB - 369 euro.
The first version will be available for pre-sale from 27 August 2018, from 4:00PM. The official sale of Poco F1 starts on August 30, 2018. The 6 + 128GB version will be available at a later date, just like the reinforced Kevlar version.

Source GSMchoice.com