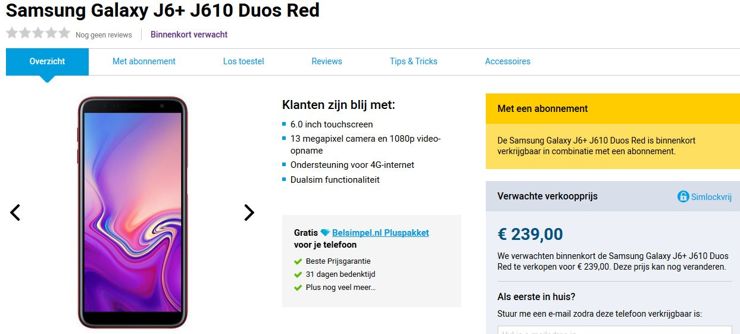 photo: Belsimpel
PA Dutch shop did not wait until the launch and introduced new Samsung models - Samsung Samsung Galaxy J4+ and Galaxy J6+. By the way, of course, their specifications...
The given specifications are quite extensive, enriched with photos and look reliable - but I note that they remain unofficial for now.
According to data from the store, Samsung Galaxy J4+ has a 6-inch IPS screen with HD+ resolution and the Snapdragon 425 processor supported by 2 GB of RAM. The phone also has 32 GB of internal memory, a microSD card slot and a 3300 mAh battery and a 5 megapixel self-portrait camera. The main camera has 13 megapixels and f/1.9 aperture, and all this is enclosed in a plastic housing and managed by Android 8.1. The phone is to be available in black, gold or pink, for 189 euro. The photos show that there is no fingerprint reader, but Dolby Atmos has been mentioned.
In Samsungu Galaxy J6+ Dual SIM the reader is already there, but placed on the side of the housing. This model has the same screen, battery and processor, but 3 GB of RAM, although the internal memory is still 32 GB. Compared to J4+, cameras have been changed. The front has 8 megapixels, and the rear is double - although the main matrix remained the same as in the cheaper model. Samsung Galaxy J6+ is to be in gray, red or black, and its price will be 239 euro.