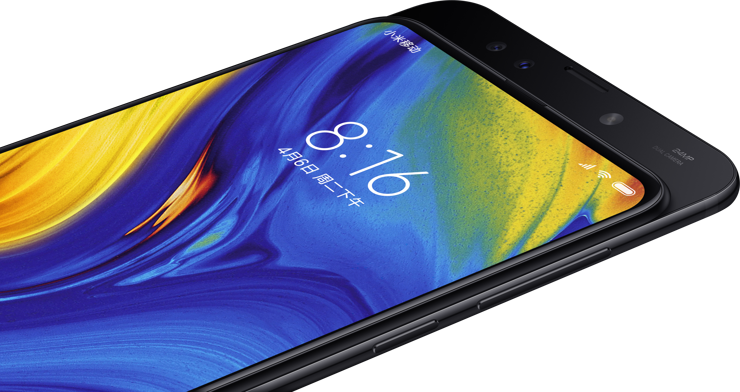 photo: Xiaomi
Here it is - Xiaomi Mi Mix 3 has been officially presented by the producer. According to the announcements, the device has an interesting, sliding structure - but there is also a small disappointment.
Xiaomi Mi Mix 3 - like the previous models of this series, enjoys the eye with almost frameless display. This time, thanks to the concealment of the front camera and the speaker in the sliding part of the casing, the frame was still reduced, especially at the bottom of the screen, thanks to which the screen occupies 93.4%, according to the producer. The slider mechanism has been tested for 300,000 cycles and should therefore be reliable.
The screen itself is AMOLED matrix with a diagonal of 6.39 inches and Full HD+ resolution, proportions 19.5: 9 and brightness 600 rivets. Unfortunately, the screen does not hide the fingerprint reader - it remains in the usual place at the back of the casing. And since we are already looking there - we will see a clear similarity to previous models. We have a smooth surface with a rounded frame of a double camera, rounded at the edge of the glass.
This camera is equipped with two 12-megapixel dies. The first one has a lens with f/1.8 aperture, optical stabilization and 1.4 micrometres pixels, while the second has a f/2.4 telephoto lens and micrometer pixels. The camera records movies in 4K and slow-motion 960 fps, it also uses an additional night mode to allow you to take good shots in low light. Xiaomi boasts that the camera achieved 103 points in the DxO benchmark, including 108 for photographs and 93 for filming. Similar points have, for example, HTC U12+ or Samsung Galaxy Note9. The front camera - it is also double, with 24 and 2 MPx matrices. And since I mentioned Samsung, Xiaomi Mi Mix 3 introduced Xiao Ai intelligent voice assistant and a separate key dedicated to its operation. For now, Xiao Ai only communicates in Chinese - does it remind you of anything? ;)
The heart of Xiaomi Mi Mix 3 is the popular and valued Snapdragon 845, which will be supported by 6 or 8 GB of RAM and 64, 128 or 256 GB of internal memory. If you ask for the version with 10 GB, which we gossiped earlier - it will be as well, but it will go on sale later, just like the variant supporting the 5G network. Xiaomi will probably organize a separate conference for this occasion, it is possible that we will see a new model name and a fingerprint reader in the screen. In the phone - as for now - there is no 5G, but we have LTE, Bluetooth 5.0, dual band Wi-Fi and NFC. Everything is powered by a 3200 mAh battery that can be charged quickly - or wirelessly.
Time for prices. For now - of course, we are talking about prices from China, ours will be higher. There are three housing colours to choose from (Onyx Black, Sapphire Blue and Jade Green) and three memory versions: 6+64, 8+128 and 8+256 GB. The prices are respectively: 3299, 3599 and 3999 yuan, which gives 475, 518 and 575 dollars.The version with 10 GB of RAM, called "Forbidden City" which will appear a bit later, will be offered in a unique shade of blue, other than the standard, at a price of 4999 yuan (720 USD).
Source Xiaomi