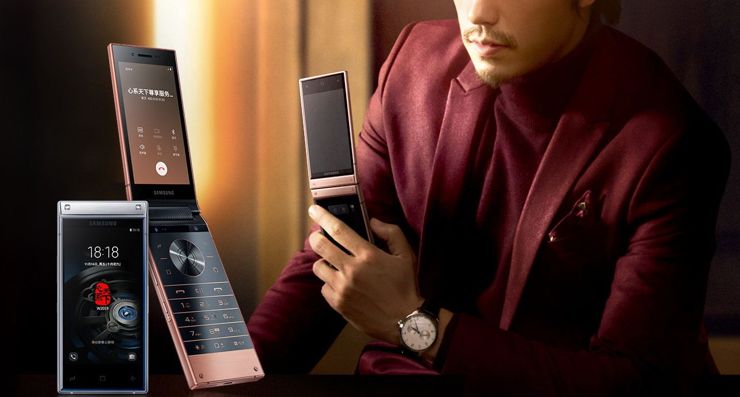 photo: Samsung
Samsung presented its top smartphone with a flap in the edition for the coming year. Unfortunately - Samsung W2019 is the equipment intended only for the Chinese market.
Similarly to the earlier models of the W series, we are dealing with a flagship smartphone enclosed in a divided, folded housing, equipped with a mechanical keyboard and two displays. In a big simplification - it can be said that this is a flap version of Galaxy S.
Samsung W2019 has two identical displays - Super AMOLEDs with a diagonal of 4.2 inches and Full HD resolution. The heart of the phone is Snapdragon 845, supported by 6 GB of RAM and 128 or 256 GB of internal memory. There are LTE, NFC, navigation (GPS, Glonass, Beidou, Galileo) and USB-C and dual band Wi-Fi, but Bluetooth is "only" in version 4.2. Power is provided by a 3070 mAh battery.
Samsung W2019 has an 8-megapixel camera with a F/2.0 selfie lens, mounted on the inside of the flap. The external camera is dual, with optical stabilization, two 12-megapixel sensors and various lenses. The main has a variable aperture (F/1.5-2.4), and the telephoto lens giving a 2-lensed lossless zoom has the F/2.4 aperture. The equipment is completed by a hybrid slot for two nanoSIM cards or a single SIM and a microSD card.
Source Samsung; viewed: 727 times.