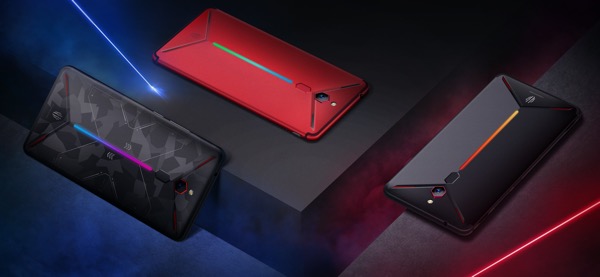 photo: Nubia
Presented just over half a year ago, the gaming Nubia Red Magic has been rejuvenated - and appears in the new incarnation: Nubia Red Magic Mars.
Nubia Red Magic Mars has retained the style of its predecessor, from the outside - it actually looks the same. Only an additional button appeared, switching the smartphone to game mode and disabling, among others notifications. In addition, a new vibration mechanism - 4D Shock and two trigger keys on the side of the casing were added. Nubia Red Magic Mars uses a Snapdragon 845 processor with an additional ICE cooling system. Three variants of memory are foreseen. You can have 6, 8 or even 10 GB of RAM, as well as 64, 128 or 256 GB of internal memory.
Nubia Red Magic Mars has a 6-inch IPS screen with a resolution of 1080 x 2160 pixels, a battery with a capacity of 3800 mAh and a 7.1 speaker system and a minijack output. The smartphone is also equipped with an 8-megapixel camera on the front and a 16-megapixel rear camera with f/1.8 lens. Nubia Red Magic Mars is available in black, red and "camouflage" - always with decorative LED backlight. The price - depending on the selected memory (6 + 64, 8 + 128 or 10 + 256 GB) - is 2699, 3199 or 3999 yuan, that is 388, 460 or 575 dollars. In addition, you can buy two Bluetooth manipulators, headphones or an external DAC - also in the Red Magic styling.
Source Nubia