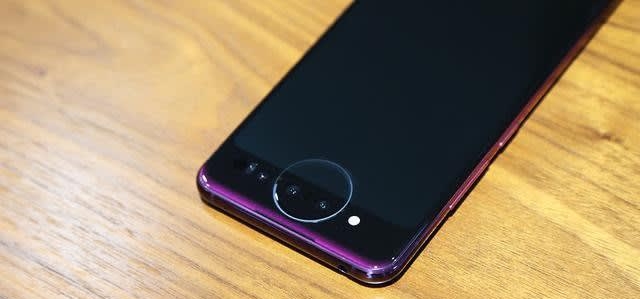 photo: Weibo via Mysmartprice
There is a large portion of photos on which we can admire the upcoming model Vivo NEX 2. It will be an interesting smartphone!
We already know that Vivo NEX 2 will be an unusual construction. The smartphone is supposed to have one, but a triple camera, surrounded by an annular illuminating lamp. It will also have two displays. The front one - will be frameless, occupying the whole front, while the rear will be a bit smaller, because it has to fit an extensive camera over it. Interestingly, the pictures indicate that the ring of the LED lamp will enter the surface of the additional screen. I wonder how it was solved ...?
In the pictures we can see Vivo NEX 2 in two colour versions, while on one of the photos we can see the current Vivo NEX S model.
A dozen or so hours after the first portion of photos, another one appeared. The surrounding indicates that they were made in the same place. This time, we can see a dozen or so copies - noting that there are several colour versions. There are also photos showing the camera interface and the function of advanced three-dimensional beautification, probably using artificial intelligence. As you can see, the intensity of the effect can be adjusted smoothly. In addition, the ring on the back plate is better visible. Two lenses are incorporated in it, and the lower part of the slightly protruding element is a display. It is difficult to say whether it is a separate fragment of the screen below or a separate LCD panel. One of the pictures seems to point to the second possibility - but we do not have the certainty. There are LEDs on the sides of the ring named Lunar Ring. However, they do not show how they shine - and whether the whole ring shines or only visible, small elements.
Source Mysmartprice; viewed: 522 times.