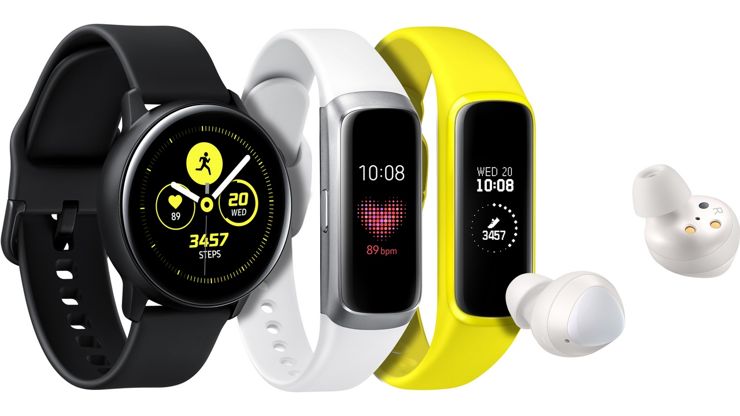 It is known that smartphones were the main star of the Samsung Unpack, but they were also accompanied by interesting accessories. The manufacturer presented a new line of Galaxy clothing devices, including the Galaxy Watch Active smartwatch, Galaxy Fit/Galaxy Fit e fitness wristbands and Galaxy Buds wireless headphones.
Galaxy Watch Active
The smartwatch, which is designed for people who value stylish design and sporty character. It is a small and lightweight smartwatch, it has a minimalist design and offers a range of sports functions. It not only records physical activity, but also monitors sleep, stress levels and health. The device automatically detects activities such as walking, running, cycling, dynamic training or swimming.
The smartwatch meets the requirements of the IP68 standard and is waterproof up to 5 atmospheres. This means that the watch can be safely worn in the rain or in the shower and can be used when practicing water sports in shallow water, such as swimming in the pool or the ocean. However, it should not be used for scuba diving, water skiing or other activities that are accompanied by sudden changes in temperature and rapid and/or deep immersion.
Galaxy Watch Active integrates with the whole Galaxy ecosystem. The watch is compatible with Android and iOS systems and offers the real-time coaching function, indoor and outdoor activity tracking and support for popular applications, including Under Armor, Spotify and Strava. The device can be charged wirelessly, as well as using the Galaxy S10 smartphone. All you need to do is turn on the Galaxy S10 wireless PowerShare function and put Galaxy Watch Active on your smartphone.
The latest Samsung smartwatch will be available in 4 colours: silver, black, sea green and pink gold, with interchangeable bands.
Technical data of the Galaxy Watch Active smartwatch:
Colour: silver, black, rose gold, sea green
Dimensions and weight: 39,5x39,5x10,5 mm, 25 g
Display: 1.1 inches (28 mm) 360 x 360 AMOLED, coloured AOD, Corning Gorilla 3
Battery: 230 mAh, wireless WPC charging
Processor: Exynos 9110 dual-core 1.15 GHz
Operating system: Tizen Wearable OS 4.0
Memory: 768 MB RAM + 4 GB internal memory
Connectivity: Bluetooth 4.2, Wi-Fi b/g/n, NFC, A-GPS/Glonass
Sensors: accelerometer, gyroscope, barometer, heart rate sensor, ambient light sensor
Durability: 5ATM + IP68 / MIL-STD-810G
---
Galaxy Fit and Galaxy Fit e
Fitness bands that support an active lifestyle. They enable easy monitoring of activity, and their intuitive user interface ensures convenient operation, also on the move. The wristbands automatically start tracking activities such as walking, running or cycling, the rest can be manually selected from over 90 different exercises in the Samsung Health application. In addition, the devices offer sleep analysis functions, in which they monitor its phases, ensuring better rest.
There is a key function for many people associated with working with a smartphone - displaying notifications, messages, alarms, calendar or weather information. Both devices provide waterproofness up to 5 atmospheres, so you can take them, for example, to the pool. Galaxy Fit provides up to 7 days of work on a single charge, and Galaxy Fit e up to 10 days.
Technical data of the Galaxy Fit band:
Colour: Black, silver
Display: 0.95 inches AMOLED colored, 120 x 240, 282 ppi
Processor: Cortex M33F MCU 96 MHz + M0 16 MHz
Operating system: Realtime OS
Dimensions: 18.3 (W) x 44.6 (H) x 11.2 (D), 24 G (with strap)
Memory: 512KB of internal RAM, 2048KB of external RAM, 32MB ROM
Connectivity: BLE (Bluetooth Low Energy)
Sensors: Pulse sensor, accelerometer, gyroscope
Battery: 120 mAh
Strength: Water-tight 5 ATM, MIL-STD-810G
Technical specifications of the Galaxy Fit e band:
Colour: Black, white, yellow
Display: 0.74 inches PMOLED, 64 x 128, 193 ppi
Processor: MCU Cortex M0 96 MHz
Operating system: Realtime OS
Dimensions: 16.0 (W) x 40.2 (H) x 10.9 (D), 15 G (with strap)
Memory: 128KB of internal RAM memory, 4MB ROM
Connectivity: BLE (Bluetooth Low Energy)
Sensors: Pulse sensor, accelerometer
Battery: 70 mAh
Strength: Water-tight 5 ATM, MIL-STD-810G
---
Galaxy Buds
Wireless headphones Galaxy Buds are packed in a handy case, allow easy operation and have a small size, but above all offer the highest quality of music played, guaranteed by AKG engineers.
The headphones are great for listening to music, and thanks to the Enhanced Ambient Sound technology, they also allow you to clearly hear the surroundings - so that the user is aware of what is happening around when talking on the phone or listening to his favorite music. In turn, conversations are facilitated by the Adaptive Dual Microphone technology, which uses one internal microphone and one external microphone in each handset, which guarantees a clear voice of the user in all conditions.
Galaxy Buds guarantee up to six hours of streaming music via Bluetooth and up to five hours of calls. The Galaxy Buds case can be used as an additional powerbank for headphones. A 15-minute charging cycle is enough to provide an additional 100 minutes of work. What's more, the handset can also be recharged wirelessly quickly, including using the PowerShare function on the latest Samsung smartphone.
Technical data of Galaxy Buds headsets:
Colour: Black, white, yellow
Dimensions: Earphone: 19.2 (depth) x 17.5 (W) x 22.3 (H) mm/charging case: 70 (D) x 38.8 (W) x 26.5 (H) .) mm, 5.6 g per handset/charging case: 39.6 g
Connectivity: Bluetooth 5.0
Sensors: Accelerometer, proximity sensor, touch sensor
Battery: Handset: 58 mAh/charging case: 252 mAh
Speaker: 5.8pi Dynamic Driver
Audio Codec: SBC, AAC, scaled (owned by Samsung)
Source GSMchoice.com, Press News