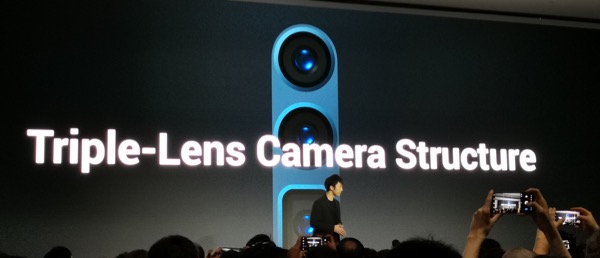 photo: Jacek Filipowicz/GSMchoice.com
Even before the MWC fairs in Barcelona started for good, the Chinese smartphone manufacturer, Oppo, showed a smartphone with record-breaking lossless zoom.
The triple rear photographic module of the latest Oppo smartphone has been constructed on the basis of a periscope, which enables it to achieve a 10-time lossless zoom. This can't be achieved by any commercially available smartphone. We can't give the name of this device yet, because the prototype presented during the conference hasn't received it yet. The cameras work, you can check in practice how the smartphone enlarges the image of the scene, you can take a picture, but any attempt to look deeper into the software of available copies ended with a mild reproof from the service.
The smartphone still doesn't have the final approved software and interface, everything can change, but what we were able to register can be seen on the film and in the pictures.
In addition to the innovative photographic smartphone, the Chinese manufacturer also announced very seriously together with the representative of Qualcomm, representatives of operators and companies involved in the production of telecommunications infrastructure, the development and implementation of 5G technology.
We leave the launch prepared by Oppo gently disappointed, but with good forecasts for the future. This company is still innovative, it still makes it worth waiting for us to be able to take ready-made, full-fledged products. In this context, I am rather making a mistake when I write about the launch, instead of just having the press conference. It was rather an initial announcement of Oppo devices, which other smartphone manufacturers will have to compete this year.
Source GSMchoice.com