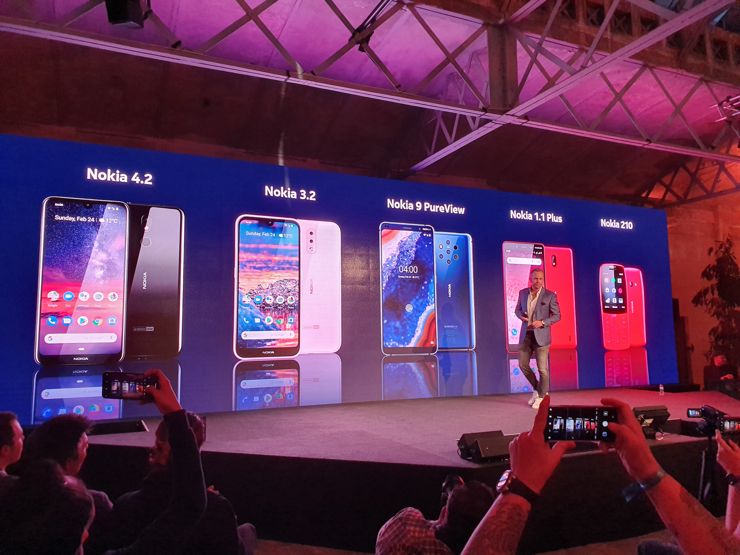 photo: Adam Łukowski/GSMchoice.com
Nokia did not limit itself to a single model – it showed five devices and each of them fills a different price shelf. We have the so-called feature phone, three smartphones with Android and the newest flagship with five cameras, that is Nokia 9 Pureview.
It started with general information about the brand and its growing popularity. And there is a lot to brag about, because in a few years Nokia has found itself in the top of the most important manufacturers (Top 5), including on key markets most important for any manufacturer (for example in Europe and in Russia). In addition in 2018 Nokia has tripled the number of its users. Without a doubt the HMD Global company has successfully brought the Nokia brand back and drawn users to itself. What is more, the manufacturer boasts with quick updates of its smartphones, first to Android Oreo, and now to Android Pie. And with many other devices, which fulfil the Android Enterprises Recommended requirements.
But it is high time to move to novelties – here is the list of product planned for 2019. First we have Nokia 210 – the phone from the so-called feature phones group. It was presented in a fire-red colour. Nokia 210 is a small device with a physical keyboard, which main feature is being able to access to the Internet. It has basic multimedia features, like the Snake game and a battery that can last for a whole month. It will be available in three colours: red, grey and black, and its price should be around 35 dollars.
Another product belongs to budget smartphones. This is a bigger sister of the last year's Nokia 1, that is the Nokia 1.1 Plus model (on the conference we could see the Nokia 1 Plus name). The smartphone has a 5.45-inch display and it works under Android 9 Pie Go Edition, with apps adjusted to weaker parameters of the device. It has an 8-megapixel camera with autofocus and a 5-megapixel camera for selfies with a beautifying mode. It will be available in three colours: black, red and blue at the price of 99 dollars.
Two next models are Nokia 4.2 and Nokia 3.2. They both belong to the Android One project, they have the Google Assistant button and an interesting solution, which replaces a typical LED flash – here the button on one of the edges of the device lights up. Both models have basic biometrical securities, that is fingerprint scanners on the back walls and a facial recognition technology. Both will be available in April. Nokia 4.2 offers the Google Pay service, it has a dual main camera, glass panels at the front and at the back. The main camera has 13 megapixels and it is supported with an additional camera for measuring the depth of field. In addition it offers recognizing scenes and it has Google Lens support. The smartphone is priced at 169 dollars. Nokia 3.2 has a 13-megapixel camera, 6.26-inch display with a small notch, Snapdragon 429 and it offers even two days of work on a single charge. The smartphone will be available in the black colour for 169 dollars.
You are probably interested the most about the newest flagship – that is Nokia 9 Pureview. It turned out that previous rumours and renders of this device were confirmed – the presented device has a slim design, blue housing and five cameras signed by the ZEISS company. Two of them are for capturing colours, and other three are monochromatic. Such configuration, which was done in the cooperation with the Light company, ensures a high quality of photos, with a perfect dynamic range, advanced depth of field control, with a high level of details, great contrast and perfect colours. Three monochromatic cameras provide better photos in black and white, which have a high level of details. The new camera app is responsible for enhancing photos, and it was augmented thanks to the partnership with Adobe Lightroom.
It is worth adding that smartphone's panels are protected by Gorilla Glass 5 and 6, and the device itself is only 8mm thick. In addition, it is waterproof, it offers wireless charging and it has a 2K resolution display in the OLED technology. Biometrical securities cover facial recognition and a fingerprint scanner integrated with the display. The smartphone is offered in the Midnight Blue colour, in the 6GB of RAM and 128GB of ROM version at the price of 699 dollars. The product will hit stores in March, but you should be able to order it today.


Source: GSMchoice.com