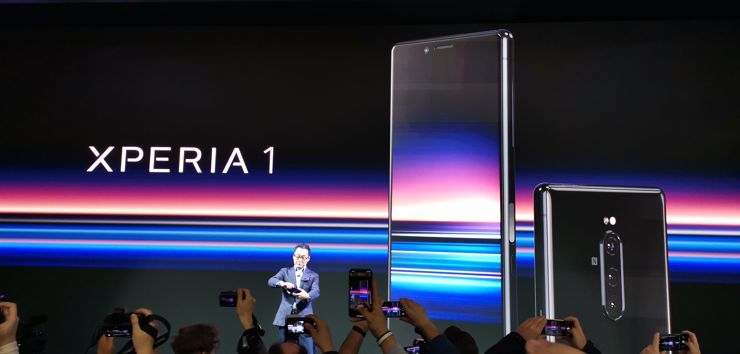 The Japanese showed the newest flagship, Xperia 1, with an excellent 4K OLED screen with 21: 9 aspect ratio and a great triple camera, as well as two middle class models, Xperia 10 and 10 Plus models.
Sony Xperia 1
The most important premiere smartphone was undoubtedly Sony Xperia 1 - that is, leaks regarding the change of naming of smartphones from Japanese actually worked. The device offers a cinema screen in the 21: 9 format with a diagonal of 6.5 inches and the first 4K OLED display with HDR support. It is worth noting that the smartphone has no indentation of the screen, but the upper frame is noticeably thicker than the other frames surrounding the screen. Xperia 1 is a direct successor of last year's model Sony Xperia XZ3, but how different from it. It distinguishes itself from other Sony models - or from other Android models that do not have such an extended aspect ratio. What can such a screen be useful for? It definitely shows more content, especially those that are displayed in the form of a list or stream. It facilitates working in the split window mode and, above all, it is to be the best solution for "consuming" multimedia content in a cinema format. Sony also works with game manufacturers such as Fortnite and Asphalt Racing to tailor games to longer screens.
But Sony Xperia 1 is not just a perfect screen - it's also a great triple camera. It consists of a trio of 12-megapixel cameras: ultra-wide angle 16 mm f/2.4, wide angle 26 mm f/1.6 (with OIS) and telephoto lens 52 mm f/2.4 (with OIS). Autofocus supports an additional sensor - Eye Auto Focus.
The smartphone drives Qualcomm Snapdragon 855, supported by 6 GB of RAM and 128 GB of internal memory. The whole is powered by a 3300 mAh battery. The device is waterproof and has a fingerprint scanner on the side edge. It will appear on the market in late spring, perhaps around June.
---
Sony Xperia 10 and 10 Plus
These are the next models that offer screens with a 21: 9 aspect ratio. Both smartphones have a characteristic design, in which the bottom and side frames are relatively narrow, while the upper one is noticeably thicker. Xperia 10 and 10 Plus will appear on sale from March 18.

Xperia 10 has a smaller 6" FullHD+ LCD screen, 3 GB of RAM, 64 GB of internal memory and a Snapdragon 630 processor. The rear panel has a dual camera with a basic 13-megapixel camera and an auxiliary 5-megapixel for measuring depth . The camera can record 4K video and has the SteadyShot function. The 8-megapixel camera mounted on the front is for selfies. The whole is powered by a battery with a capacity of 2870 mAh.

Xperia 10 Plus will have a 6.5" LCD screen (almost like the flagship model, but with a resolution of "only" 1080 x 2520 pixels), 4 GB of RAM and 64 GB of built-in memory. This model is powered by a 3,000 mAh battery. 10 Plus has a dual main camera, with a basic 12 megapixel camera (1/2.8" matrix) and an 8-megapixel telephoto lens with 2x zoom. The phone can record 4K movies (16: 9 and 21: 9 formats) and supports SteadyShot (electronic stabilization) The front features an 8-megapixel selfie camera, powered by Snapdragon 636, supported by 4 GB of RAM and 64 GB of internal memory that can be expanded via a microSD card.






Source GSMchoice.com