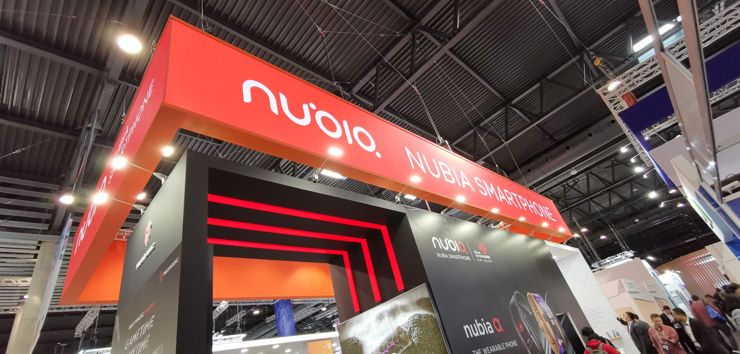 photo: Jacek Filipowicz/GSMchoice.com
This year's fair is a lot of smartphones with flexible displays behind the glass. You can wear the Nubia Alpha bracelet, use it, and finally buy it. The Chinese did a good job.
Huawei Mate X behind the glass, Samsung Galaxy Fold in the aquarium, all non-touchable. At the back of the stands, under the watchful eye of the employees of stands they can be touched, but to a limited extent "because the software is not ready yet". Nubia Alpha proves that you can find a sensible application for a flexible display, provided it is stiffened: we will not fold and unfold it.
Jola recently wrote: "The new Nubia product is Alpha - a futuristic phone in the form of a flexible band [...] Alpha would be a legitimate smartphone and wristband in one. This should enable conversations, take pictures and monitor user activity. It will also offer 5G network support." Add to this gestures that work, although you need to learn it a moment, two available colours: black and gold and a well-solved interface that allows you to move freely vertically and horizontally.
As for the Nubia Alpha watch it is a bit large, but light. You can easily get used to it and wait for the technology to slim down this kind of gadgets. I predict that we will not have to wait long.
Nubia Alpha dominated the Nubia booth, but the Chinese manufacturer also presented two more smartphones - the double screen Nubia X and the Nubia RedMagic gaming.
At the front, Nubia X looks like any modern smartphone - it has a large screen, occupying 93.6% of the front. The screen is 6.26 inches and Full HD+ resolution, and is made in LCD technology, nothing extraordinary. It's interesting when you turn the phone. On the back we can see another screen, but it's already OLED. It is smaller, because there had to be room for a camera. The rear screen is 5.1 inches and its resolution is HD+. The already mentioned single camera is another Nubia X peculiarity. The second camera is unnecessary, because thanks to the presence of an additional screen, it is enough to reverse the phone to take a selfie ... The camera has two matrices - with 16 and 24 megapixels and apertures, respectively, f/1.8 and f/1.7.
The phone has two more fingerprint readers - each screen has its own assigned and depending on which one we touch, the right side of the phone lights up. In addition, the readers also provide navigation through the interface, replacing the system buttons.
Nubia X is based on Snapdragon 845, supported by 6 or 8 GB of RAM and 64, 128 or 256 GB of internal memory without the possibility of expanding the card. The smartphone powers a 3800 mAh battery, and all controls the Android 8.1 Oreo system with the Nubia UI 6.0.2 interface.
Nubia Red Magic Mars has retained the style of its predecessor, from the outside - it actually looks the same. Only an additional button came, switching the smartphone to game mode and disabling, among others notifications. In addition, a new vibration mechanism - 4D Shock and two trigger keys on the side of the case were added. Nubia Red Magic Mars uses a Snapdragon 845 processor with an additional ICE cooling system. Three variants of memory are foreseen. You can have 6, 8 or even 10 GB of RAM, as well as 64, 128 or 256 GB of internal memory.
Nubia Red Magic Mars has a 6-inch IPS screen with a resolution of 1080 x 2160 pixels, a battery with a capacity of 3800 mAh and a 7.1 speaker system and minijack output. The smartphone is also equipped with an 8-megapixel camera on the front and a 16-megapixel rear camera with f/1.8 lens. Nubia Red Magic Mars is available in black, red and "camouflage" - always with decorative LED backlight.
Source GSMchoice.com