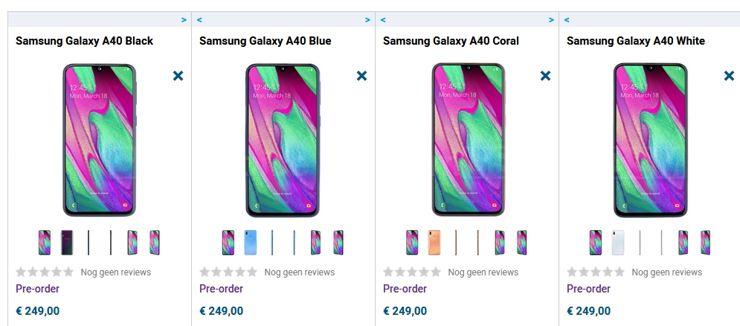 photo: Belsimpel
Although the launch of Samsunga Galaxy A40 is planned for April 10, the Dutch shop already has this model on offer.
Samsung Galaxy A40 is offered in four colour versions, at a price of 249 euro. The store, of course, provides the full specification of the phone. According to the data presented there, A40 has a Samsung Exynos 7885 processor and a 5.9-inch Super AMOLED screen with Full HD+ resolution. The phone is offered with 4 GB of RAM and 64 GB of flash memory - but it is not known if this will be the only variant of this model.
The battery is charged with a 3100 mAh battery with fast charging, and among the communication interfaces there are mentioned, among others, LTE, NFC, Bluetooth 4.2, minijack, USB-C and Wi-Fi 2.4/5 GHz. The specification mentions a 16-megapixel camera with a f/2.0 lens and an auxiliary matrix (not specified) and a 25-megapixel front camera.
It is not known why the shop started to pre-sell the phone a few weeks before the launch, nor is it known whether the price for which Samsung Galaxy A40 is offered will be confirmed at the time of the launch - for this reason I decided not to display overly the network names offering the pre-premiere model.
Source Belsimpel