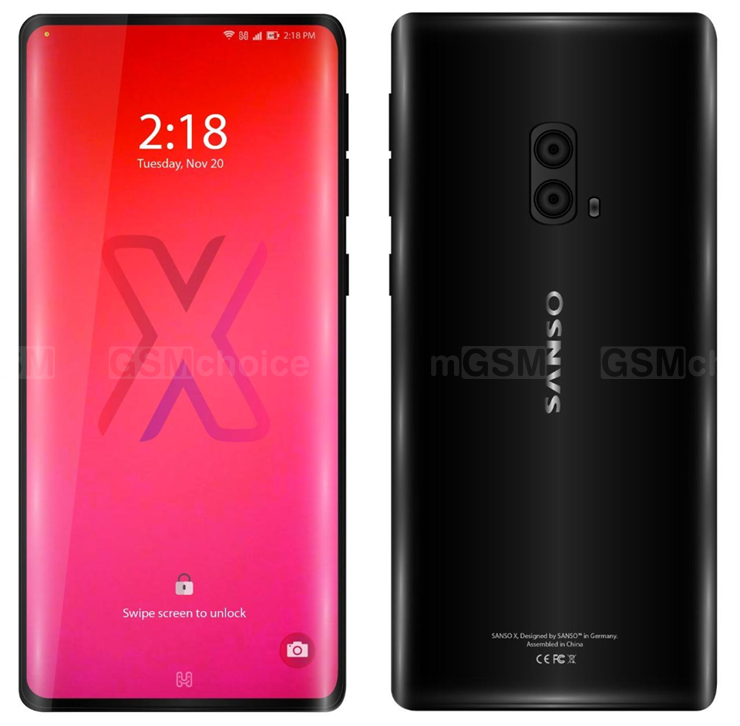 photo: Sanso on Facebook
Oppo and Xiaomi are racing about which company will show the first smartphone with a selfie camera under the screen, meanwhile, news from India shows that they have a competitor in this race - Sanso X.
If you haven't heard about Sanso before, it's no wonder. This is a German - Indian manufacturer, offering only a few models on the Indian and Pakistani markets. The offer range is typical - from the featurephone to the flagship - but it is difficult to find a unique, innovative model among them. Therefore, the news of a top smartphone with an innovative camera, which in addition is to overtake the giants of the industry, arouses curiosity, but also induces a lot of distrust. The specification of the planned Sanso X is really impressive - I would say that it is too impressive, considering the company's previous achievements.
Sanso X - in addition to the camera hidden under the 6.3-inch, Super AMOLED display with a resolution of 2160 x 3840 pixels, refresh 90 Hz and an impressive density of 699 ppi, would have a top processor Snapdragon 855 with 5G X50 modem, 12 GB of RAM and 512 GB of internal memory. The aforementioned sub-screen selfie camera would have a 32-megapixel matrix and f/2.0 aperture, and the screen would protect the Gorilla Glass 6 with rounded edges. There would still be a fingerprint reader under the screen.
According to leaks, Sanso X would have a 4500 mAh battery with Quick Charge 4+ charging, and a 50 W charger would be included. The rear camera would be triple - with the main 48 Mpx module with optical stabilization and f/1.8 aperture. The second camera would have an 8-megapixel sensor and a telephoto lens with optical stabilization, f/2.4 aperture and a 5x lossless zoom. In addition, this camera would offer a hybrid zoom 10x and digital 50x. The third camera would have a wide angle f/2.4 lens and a 20 Mpx matrix. All this would work under the control of Android 9 and would be in a waterproof housing (IP67) available in pink or black and gold.
You admit that the specification is like from a fairy tale? Unfortunately, although Sanso X is said to have its debut in December, I am seriously concerned that the above figures are not just fairy-tale stories - but they are a fairy tale for gullible leaksters... For this reason, I suggest to refrain from putting cash on this equipment and wait until it appears on the manufacturer's website. Anyway ... all signs on this page and on social networking sites seem to indicate that the purchase of Sanso X would involve an expedition to India...
Source Sanso: 1 , 2 via Androidupdated