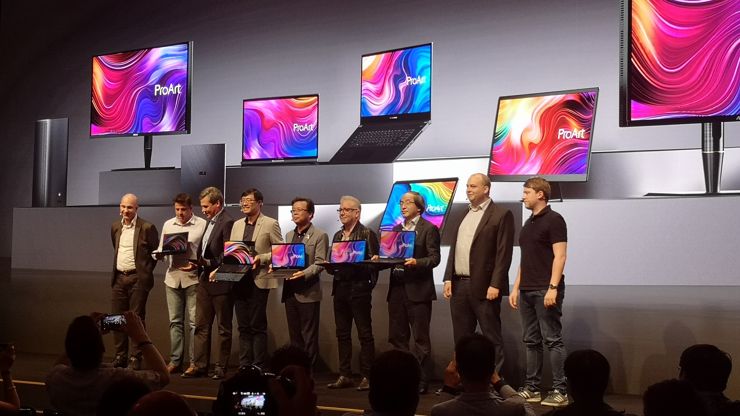 Asus is launching the sale of its gaming smartphone in Europe, in addition, we saw a new smartwatch and laptops from the ZenBook and ProArt series.
The conference at IFA 2019 was an opportunity for Asus to celebrate the company's 30th anniversary on the market. But also the announcement of the European launch of devices, which until now could only be bought in China, and the launch of new devices: a smartwatch, monitors, computers and laptops.
---
Asus VivoWatch SP
A moment later, we witnessed the launch of the new Asus VivoWatch SP smartwatch, a waterproof gadget up to 5 atmospheres, holding up to 14 days on a single charge, which will take care of our health and physical activity. It has sensors that perform an ECG and measure heart rate by photoplethysmography (PPG). The shield is protected by Gorilla Glass, and the whole is surrounded by a ceramic bezel. The smartwatch also has a built-in GPS and altimeter. The model will go on sale in the fourth quarter of the year.
---
Asus ROG Phone II
But the next part of the conference caught our attention more. Well, there was officially announced the start of sales of a great model for players, Asus ROG Phone II, in Europe. Until now, only Chinese could buy it. And from today Europeans can order it. We remind you that this smartphone has the Snapdragon 855 Plus, a GameCool II walking system, a 6.59-inch AMOLED screen with a refresh rate of 120 Hz and a response rate of 1 ms, and the whole is powered by a 6000 mAh battery. Let's add that this model is available with a whole range of accessories, such as docking stations or gamepads. The ROG Phone II model with 12 GB of RAM and 512 GB of internal memory can be ordered from today at a price of 899 euro. Deliveries will start on September 20. In addition, the Ultimate Edition will appear in the fourth quarter, with 1 TGB ROM and a matt black finish. It will cost 1199 euro.
---
Laptops from the ZenBook Duo and ProArt series
The rest of the event concerned the launch of notebooks as well as the start of global sales of the two-screen ZenBook Duo and ZenBook Pro Duo models. ZenBook Pro Duo, i.e. a laptop with two screens (first presented at Computex). The manufacturer did not follow the trend of flexible, bent screens, but proposed a laptop equipped with two 4K screens. One has a standard size of 15.6 inches (16: 9), while the other screen, 14-inch IPS with a 32: 9 aspect ratio, is found above the keyboard. This solution was referred to as ScreenPad Plus. In the most powerful version, this equipment has an eight-core IntelCore i9 processor, 32 GB of RAM, graphics from Nvidia RTX 2060, 1 TB PCIe 3.0 SSD as well as a Wi-Fi 6 network card and a Thunderbolt 3 socket. A "light version" of this model was also prepared. Asus ZenBook Duo is a variant with a slightly reduced specification, in which two screens were left (14-inch main screen and 12.6-inch ScreenPad), and additionally a Core i7 processor, 16 GB of RAM and graphics GeForce MX250 were installed. ZenBook Duo will appear in Europe in October at a price of 1699 euro, while ZenBook Pro Duo is now available for 2999 euro.
We also saw new monitors as well as computers and notebooks from the ProArt series. The most interesting new products include the lightest 14-inch business laptop, weighing only 880 grams (Asus Pro B9), ProArt Station D940MX workstation and models from the ProArt series (ProArt StudioBook Pro X or ProArt StudioBook One)..
Source GSMchoice.com