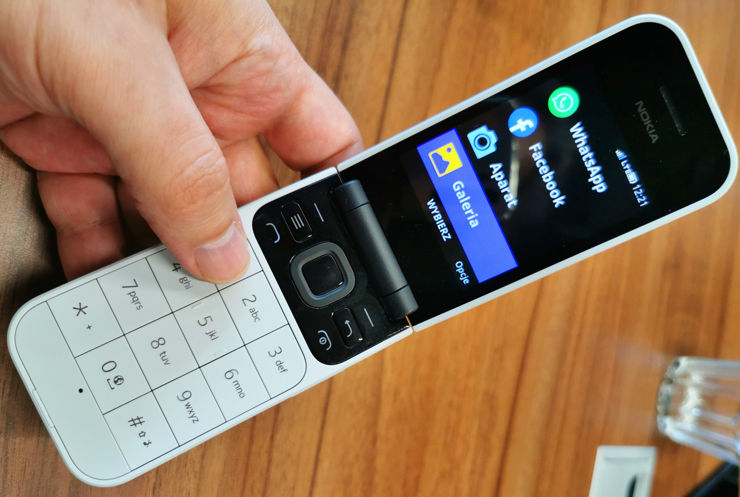 Nokia 2720 Flip tempts today with a somewhat forgotten form of flip, but much more with technical capabilities: Qualcomm processor, LTE support, WiFi or mobile GPS navigation. Let's take a closer look at it.
Nokia 2720 Flip - KaiOS, 4G and social networks
Classic clamshell with Google Assistant, WhatsApp, Facebook and 4G - why not? Anyway, I don't mind. The design based on the KaiOS operating system can do as much as early smartphones. It has a clear external display that allows you to receive notifications and see who is calling without opening the flip. In turn, the main display will offer a picture of up to 2.8", which is very rare in this class of phones. Its resolution is, unfortunately, still only QVGA, but both the texts and graphics are perfectly visible on the screen.
The manufacturer has decided on a separate button to call the Google Assistant. I do not like this solution - also in smartphones, but I know that there are users who appreciate them. The assistant will help you manage your conversations and messages by voice without using the keyboard.
Technique is important, but safety first
Based on the Qualcomm 205 processor Nokia 2720 Flip has 512 MB of RAM and 4 GB of flash memory for the user. Fortunately, KaiOS takes up slightly less space than Android, but it's good that you can use up to 32 GB cards to expand your memory. The LTE modem will provide data download speeds of up to 150 Mb/s and sending - up to 50 Mb/s. We can enjoy VoLTE and VoWiFi support, but even more so that the phone can be used as an external LTE model for a laptop. Among the supported LTE frequencies will be 800 MHz.
Nokia 2720 Flip has a safety button. If necessary, after activating this button, the phone will send messages with the given location, and will also ring to five selected contacts from the book.
Navigation, power supply, interfaces
Nokia 2720 Flip is certainly not a titan of quality. Photos with a resolution of 2 Mpx are not the peak of dreams, but after all photos are the biggest advantage of the phone. The presence of a GPS receiver with support for AGPS and GLONASS systems may be a surprise, however.
The device is powered by a 1500 mAh battery. According to the manufacturer's declaration, the dual-SIM version of the phone will last 19.3 days on a 2G network, 8.2 days on a 3G network and 14 days on a 4G network. We'll talk for 12.5, 14.3 or 9.4 hours, respectively.
Nokia 2720 Flip offers Bluetooth version 4.0, WiFi 2.4 GHz, 802.11 b/g/n standards, a micro-USB socket in USB 2.0 version and a 3.5 mm audio jack. The phone will appear on the market in single and dual-SIM versions.
Nokia 2720 Flip
The shapely flip makes a very good impression. My only concern is its delicacy. The Nokia 2720 Flip housing was made of a plastic that is nice to touch. While a fall from a low height onto a soft surface should not hurt it, an open phone falling to concrete from a height of a meter will probably need to be collected in pieces. The body of the phone is quite large and does not slip easily out of hand, but it is possible.
If someone is tempted by the great possibilities of Nokia 2720 Flip and is not afraid of its delicacy, it should be ready already in September for the expense of EUR 89. This can be a nice choice for anyone who needs a relatively simple phone with a modem and navigation function.
Nokia 2720 Flip - technical specification
Networks: GSM: 850, 900, 1800, 1900; WCDMA: 1, 5, 8; LTE 1, 3, 5, 7, 8, 20
Data transmission: LTE kat. 4 - 150 Mb/s DL; 50 Mb/s UL; VoLTE; VoWiFi
Operating system: KaiOS
Processor: Qualcomm 205
Memory: 512 MB RAM, 4 GB flash + microSD up to 32 GB
Displays: 2.8", 240x320 pixels + 1.3" 240x240 pixels
Camera: 2 Mpx with LED
Interfaces: WLAN IEEE 802.11 b / g / n, BT 4.0, A2DP, AVRCP, DUN, FTP, HFP, HID, HSP, MAP, OPP, PBAP, PAN, IOPT, micro-USB (USB 2.0), audio jack 3.5 mm
Navigation: GPS/AGPS + GLONASS
Battery: BL-6, 1500 mAh, replaceable
Dimensions: closed - 54.5 x 104.8 x 18.7 mm; open - 54.5 x 192.7 x 11.6 mm
Additional information: nano-SIM/2x nano-SIM; book of up to 1000 contacts, HAC compliance
Talk time:
Single-SIM - armed: 27.8 days on a 2G network, 28.9 days on a 3G network, 20.9 days on a 4G network
Single-SIM - calls: 8.9 hours in a 2G network, up to 10.9 hours in 3G network, up to 6.6 hours 4G
Dual-SIM - armed: 19.3 days on a 2G network, 18.2 days on a 3G network, 14 days on a 4G network
Dual-SIM - calls: 12.5 hours in a 2G network, up to 14.3 hours in 3G network, up to 9.4 hours 4G
Source GSMchoice.com