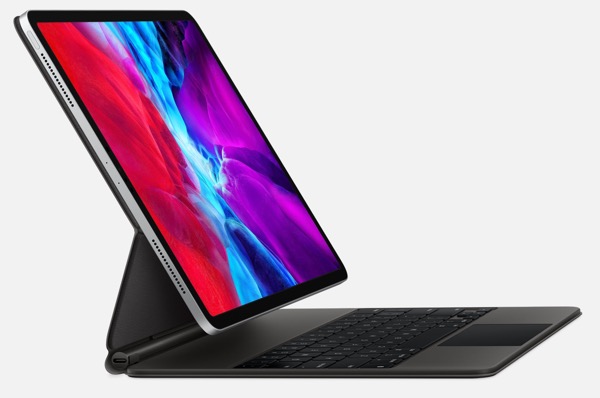 photo: Apple
Apple had to do without a loud conference this year, but it did not change the "publishing" plans and presents the new iPad Pro. Of course, there is more and better - but the most important change is probably cameras.
The new iPad Pro has received a similar set of cameras as the iPhone 11 Pro - at least in appearance. Technically - more emphasis was placed on 3D imaging. So we have a basic 12 Mpx f/1.8 camera and a 10-megapixel wide-angle camera with a 125-degree field of view and f/2.4 aperture. The camera received a LiDAR (Light Detection and Ranging) object scanner, operating at a distance of up to 5 meters and allowing image processing for the needs of augmented reality applications. Thanks to this, we can literally "view" objects from different sides, because the system saves accurate information about the depth of the image. Additionally we received an improved set of microphones and four speakers. A 7-megapixel TruDepth camera with f/2.2 lens was left in the front.
The heart of the new iPad Pro is the Apple A12Z processor with octa-core graphics. Apple declares that the iPad can work up to 10 hours on one battery charge, and the LTE modem is 60% faster than before. In addition, the company introduced a new, attachable Magic Keyboard, which allows you to set the device at different angles, in the range of 130 degrees. The keyboard has a fairly large touchpad and backlit keys. You can choose from two screen sizes with refresh rates up to 120 Hz: 11 and 12.9 inches, and matrix resolutions are 2388x1668 and 2732x2048 pixels.
The 11-inch iPad Pro Wi-Fi version costs 799, 899, 1099 and 1299 dollars, depending on the selected memory, respectively, 128, 256 and 512 GB and 1 TB. The 12.9-inch model with the same memory variants, priced at 999, 1099, 1299 and 1499 dollars in turn, and an additional $ 150 must be added for the LTE modem in any case. The optional keyboard means an additional expense of 299 or 349 dollars, depending on the size of the iPad.
Source Apple