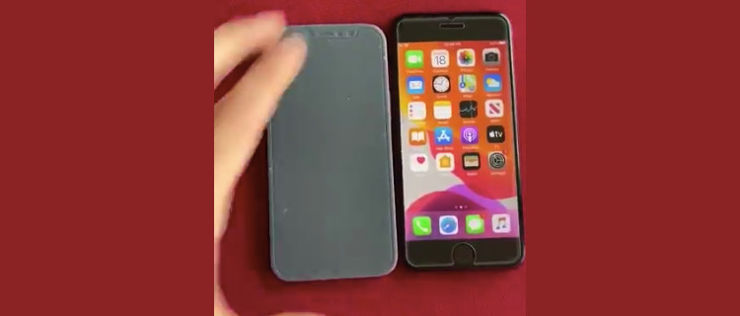 photo: EveryApplePro
During the weekend new information appeared on the iPhone 12. According to the latest leaks, the iPhone 12 is to be a small smartphone, equipped with a new Qualcomm modem.
It is possible that the iPhone 12 will be a very compact smartphone. EveryApplePro service presented a video showing a model of the phone made on the basis of CAD technical sketches. Of course, it does not perfectly reflect the appearance of the device - but it shows its size and overall shape of the housing. The phone will receive a 5.4-inch display surrounded by a narrow frame. This frame means that the whole phone can be smaller even than the Apple iPhone SE 2020...
People who love tiny phones are in for a treat with the new 5.4-in iPhone. Smaller than a new SE! pic.twitter.com/cTSH2LBzKA

— EverythingApplePro (@EveryApplePro) June 18, 2020
In turn, DigiTimes reports that the production of A14 processors for this year's Apple smartphones and tablets will start in June. The systems are to be manufactured by TSMC and equipped with Qualcomm X60 modems. The new 5G modems are to be more effective than the current X55 and support aggregation of mmWave and sub-6GHz bands.
Of course, this year's iPhone will not appear in one version. There will be two larger models, 6.1 and 6.7 inches in diameter. Their appearance will be a mixture of the last generation with the iPhone 4. Smartphones will receive glass backs, characteristic camera frames and notches in the screen. The sides of the housings will be flat, with sharp corners, which will be a reference to the iPhone 4 years ago.
Here are the first iPhone 12 dummies: 3 sizes (5.4, 6.1, 6.7). Flat edges, 3 cameras on the bump like recent molds. Notch, cameras should not be taken 100%, but chassis promising. pic.twitter.com/fcw3bLhVEF

— Sonny Dickson (@SonnyDickson) June 21, 2020
Source @EveryApplePro, Macrumors, @SonnyDickson