Merk
Emporia
Emporia telefoons
Model
Elegance
Andere namen van deze telefoon
V35
GSM standaard
900 1800
UMTS standaard (3G)

Standard LTE

Standard 5G

Vormgeving
Bar-telefoon
Afmetingen (hoogte x breedte x diepte)
109.00 x 50.00 x 14.00 mm
Gewicht
92.00 gBuy case
Scherm
Mono / OLED
160 x 128 px (1.80")
Bescherming scherm
Buy screen protector
Max. gesprekstijd
2G: 240 min. (4.0 h)
Max. standbytijd
2G: 300 h (12.5 dagen)
Standaard batterij
Li-Ion 1100 mAhBuy powerbank
Snel opladen van de batterij
Draadloos opladen van de batterij

Geheugen van het telefoonboek
100 contacten
Intern geheugen

Geheugen kaarten

Touchscreen

Dual SIM

Introductiedatum
AANVULLENDE INFORMATIE
Sorry, additional information is available only in English.

---

Speaker adapted to work with hearing aids. Top 5: The ability to place favorite or most frequently used numbers at the beginning of the phone book. Remote recording of contacts in the phone book via SMS. 5 levels of ringer volume. Visual indication of incoming call: OK button is blinking green. Built-in LED flashlight. Date, birthday reminders.
FOTO'S VAN DEZE TELEFOON
Er zijn nog geen foto's toegevoegd. Klik

hier

om een foto toe te voegen.
GEGEVENS TRANSMISSIE
Bluetooth

Buy headphones

USB

Buy adapter
COMMUNICATIE EN BERICHTEN
Video conferentie verbinding

SMS geheugen

100 contacten
MULTIMEDIA
Audio Jack

Buy headphones
PIM EN EXTRA FUNCTIES
Ratings: 49 | Aantal bezoeken: 85940 | Populariteit: 0,01%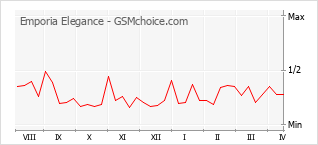 Populariteit van de telefoon: diagram
Emporia Elegance
Hoewel we ons best doen om alleen ware en actuele informatie en technische gegevens over mobielen op GSMchoice.com te publiceren, kunnen we geen garantie geven dat de gegevens werkelijk helemaal juist zijn. Daarom, als je een fout opgemerkt hebt,