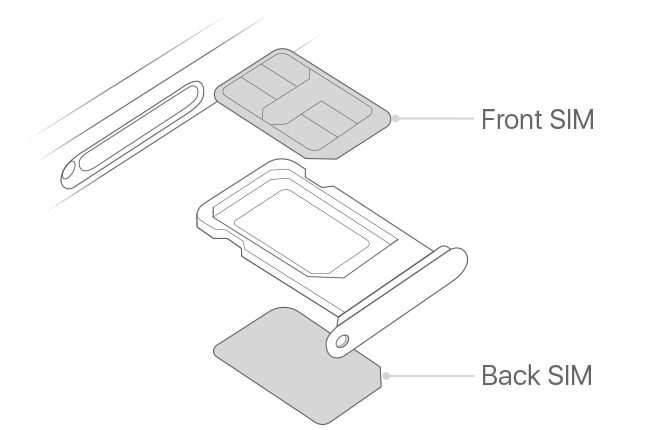 photo: Apple
Still during the conference, the enthusiasm associated with the introduction of DualSIM and iPhones dropped sharply. It turned out that this solution will not be available to everyone.
DualSIM in new iPhones operates in Dual Stand-by mode. This means that two cards are always active, but when there is a conversation on one of them, the incoming call will be diverted to voicemail. Similarly, if the data transfer is not assigned to the card we just use, the transmission will be paused during the conversation. Similarly like in most of such solutions, in Apple you can give individual names to cards, as well as set default cards for voice or data calls. You can also assign contacts to connect from individual cards, and when calling you will use the card that the previous call has arrived at or used recently, calling this number - of course unless we decide otherwise. What's more, the eSIM card, at the time of the market debut of new models, will be inactive. It will turn on only after upgrading to iOS 12 - but it is not specified when it will happen. Probably in autumn.
Unfortunately, the "real" DualSIM, with two separate physical cards, will only be available for use for the iPhone XS Max purchasers from China, Hong Kong and Macau. There will be a double slot, containing two nanoSIM cards one above the other. In other countries, a different solution will be used - connecting one physical nanoSIM card with an eSIM card. The problem is that currently eSIM is offered only by 16 operators from 10 countries (including the worldwide GigSky and Truphone networks).
So - we have DualSIM, but as if we did not have it... Additionally, one must remember that to use Dual fully, it is worth having an iPhone without operator blocks. Otherwise, both cards would have to be in the same network. If you buy a phone from the CDMA network (eg American Verizon or Sprint), the additional card will not support.
I am also wondering if the version available in China is structurally different from the global one. It is possible that due to the unification of the production bringing the cost reduction, double sockets and eSIM space will be in every phone - and depending on the region there will only be changed a drawer or soldered eSIM chip... The software will do the rest. It would be understandable - it's easier to build phones that do not differ in construction, but only in software. I would not be surprised if that was the case, but the answer will only bring the dismantling of both variants of Apple smartphones and the comparison of their construction.