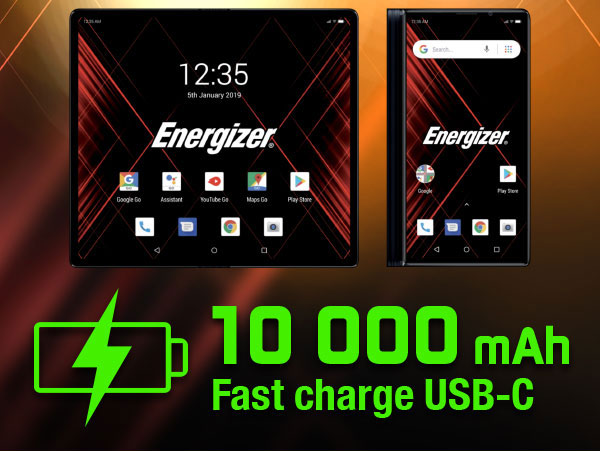 This device has not only a folded screen, but also an impressive specification and a 10000 mAh battery.
Energizer Power Max P8100S when unfolded has a screen size of 8.1 inches and a resolution of 1536 x 2048 pixels, while after folding it has 6 inches and a resolution of 1080 x 2160 pixels. The device is powered by the latest Qualcomm SDM855 Snapdragon 855 (7 nm), supported by Adreno 640, in combination with 8 GB RAM and internal memory of 256 GB. It works under the control of Android 9.0 Pie. The main camera is a 48-megapixel camera, supported by an additional 12-megapixel camera, while the selfie camera has a 24-megapixel sensor. The smartphone supports 2G/3G/4G and 5G networks and two SIM cards. There was also an FM radio and a headphone jack. The smartphone supports Wi-Fi 802.11 a/b/g/n, Bluetooth 5.0, GPS with aGPS and USB-C port. The whole is powered by a 10,000 mAh battery, however so as charging such a powerful cell did not take too long, the smartphone supports fast charging of 18 W.

Although this model was announced already at the MWC, the smartphone will actually be available in many months - most likely in November 2019.