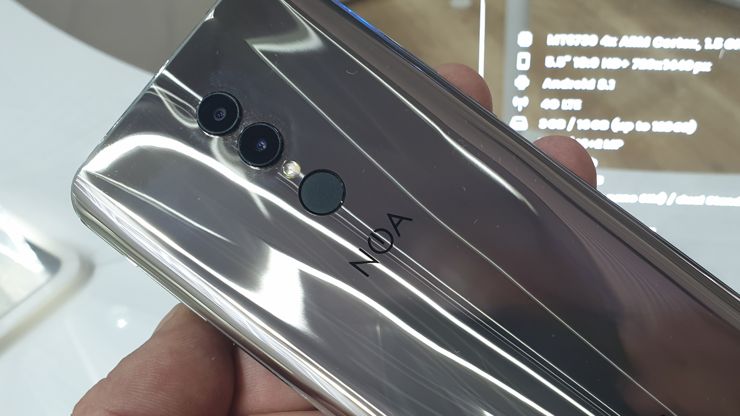 NOA brought a whole range of devices to MWC, from a series of NOA smartphones with F and N, through a tablet, and ending with NOA Vision Smart TV.
NOA used the Barcelona fair to present smartphones from the F and N series, as well as other products from which we chose the most interesting smartphones.
NOA - seria F
During the Barcelona Fair NOA showed new F-series smartphones. They include the following models: NOA F3, NOA F5, NOA F10 Pro and NOA F20 Pro. These are devices for every budget, priced from 119 to 349 euro.
The most important model is NOA F10 Pro, which is distinguished by the AI triple main camera and 25-megapixel selfies camera, high battery capacity, fast wireless charging and design. The 6.3-inch screen has a small U-shaped notch that holds the camera - the bezels around the screen are small, while the Full HD+ resolution (2340×1080 pixels) allows for comfortable work. F10 Pro has a 4000 mAh battery and supports wireless charging. The fingerprint scanner and the Face ID function are responsible for data security. DTS technology is responsible for sound. The smartphone drives Mediatek Helio P60 clocked at 2 GHz, supported by 8 GB of RAM and 128 GB of internal memory (also support for microSD up to 128 GB). The whole works under the control of Android 9.0 Pie. The device was priced at 299 euro.
A more budget proposition is NOA F5 - a smartphone with a dual camera, 4 GB of RAM and 64 GB of internal memory, with a battery with a capacity of 4000 mAh. The NOA F5 price was set at 199 euro. In turn, at 119 euro, the price of NOA F3 model was determined, which has 3 GB of RAM and 32 GB of internal memory.
NOA - seria N
In addition to the F series, NOA also showed the latest models in the N series: NOA N7 and N10, as well as the NOA N3 and N20. It is worth noting that the N10 model won the EISA Best Buy Smartphone award 2018-2019. Its successor is NOA N20, with a screen with Full HD+ resolution and 19: 9 aspect ratio. Components include 4 GB of RAM and 64 GB of internal memory.
NOA - seria Rugged
NOA also does not forget about users demanding the highest strength from smartphones. This is the Rugged series, which latest representative is Hammer 2019. Its main features are resistance to shock, pressure, water and scratches - confirmed by IP68 and MIL-STD-810G standards.


Source GSMchoice.com, The press kit; viewed: 493 times.