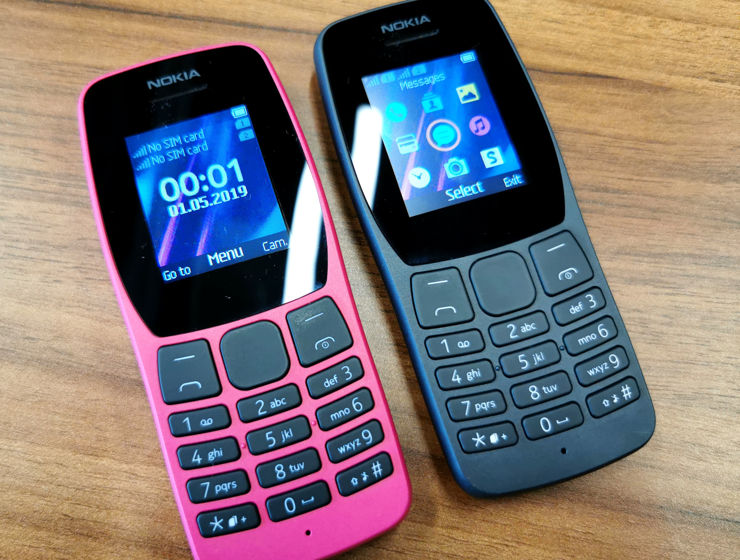 Nokia 110 will not be a big hit and will not delight everyday smartphone users. This is a phone designed for those who like unpretentious simplicity and ... a snake.
Nokia 110 is a Snake and colours
Nokia 110 2019 Dual SIM, the successor to Nokia 105, is an interesting range of colours and small sizes. The handset that supports two SIMs will be available in pink, blue and classic - black. The Nokia Series 30+ interface has some useful basic applications, but also games - Snake fans should not be disappointed. Ninja Up, Airstrike, Penalty Cup, Doodle Jump are, unfortunately, only in demo version - you have to pay extra for full games.
Nokia 110 - portable MP3-player and radio
The phone has really minimal memory, because after 4 MB of RAM and flash, fortunately the manufacturer has allowed the use of an external card up to 32 GB, which will probably mainly be used to store MP3 files. There is also an FM radio, although to listen to it you will need to connect a headset that is not in the box. The manufacturer promises that the radio on the headphones will play 18 hours, and we'll listen to audio files - also on headphones - for 27 hours.
Camera? Probably not
The camera on the Nokia 110 needs to be mentioned because it is there. But don't expect much from it, it's just a QVGA matrix, i.e. photos with a resolution of 320x240 pixels. They are unlikely to be used for a family album.
Nokia 110 is powered by a 800 mAh battery, has a built-in LED flashlight, a micro-USB socket and 3.5 mm audio jack. The colourful interface icons will be supported on the 1.77 inch display with QQVGA resolution, i.e. 120x160 pixels.
Nokia 110
Nokia 110 2019 Dual SIM is an uncomplicated phone for minimalists. For its size, it has quite comfortable and large keys, the casing that fits perfectly into small hands, can be used as a portable audio player and radio, and also allows you to play with the immortal Snake. It's nice that it has a flashlight and will handle two SIM cards. If only the camera was a bit better ... Judge yourself if it's attractive enough.
Nokia 110 - technical specification:
Networks: GSM 900/1800
User interface: Nokia Series 30+
Dimensions: 115.15 x 49.85 x 14.3 mm
Weight: 74.96 g (with a battery)
Display: 1,77" QQVGA
Camera: QVGA
SIM cards: 2x mini-SIM
Interfaces: micro-USB (USB 2.0); 3.5 mm audio jack
LED flashlight
FM radio (requires headphones to be connected)
Memory: 4 MB flash, 4 MB RAM
Memory cards: up to 32 GB
Battery: Li-Ion 800 mAh, replaceable
Source GSMchoice.com