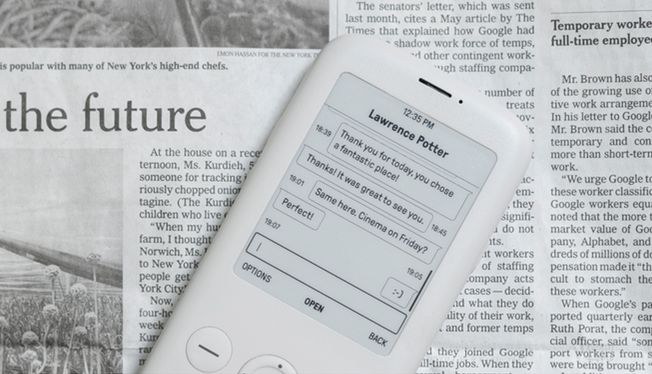 photo: Mudita
Today I am hurrying to inform you about an interesting phone designed by a Polish company. Mudita Pure is a minimalist phone for a specific recipient.
The device, which presale is on Kickstarter, is a very simple, but at the same time modern and elegant mobile phone. It has a classic design - with a small display and keyboard, but at the same time its form makes it possible to speak of it as a design phone. The white housing has a streamlined shape and minimalistic, raw and simple buttons. The screen is an eye-friendly e-ink matrix with a 2.84 inch diagonal and a decent resolution of 600 x 480 pixels, which gives a density factor of 270 ppi. The screen does not emit light harmful to the eyes, but this is not the only pro-health feature of this phone. Another one is the very low electromagnetic radiation absorption coefficient (SAR) of 0.08 W/kg - it is therefore the perfect equipment for those who fear the harmful effects of electronics.

The Mudita Pure phone has no above-standard extras, such as social networking applications or browsers. Instead, in the MuditaOS software - i.e. its own system developed by the manufacturer - there is a timer supporting meditation, as well as a music player, an alarm clock, a notebook and a router function. The phone powers a 1900 mAh battery, which is enough for a two-week standby time. The device works based on the Cortex M7 chip, 16 MB RAM and 16 GB internal memory. It also has Bluetooth 4.2, Dual SIM and supports the global 2G/3G and 4G band range. The equipment is completed with: USB-C, a mini jack and loudspeaker branded by Harman.
The company, whose creator is Michał Kiciński, known as the co-founder of CD Projekt (famous for the Witcher and Cyberpunk 2077 games), emphasizes that the phone is designed and manufactured in Europe. The Kickstarter fundraiser is already a success, as the assumed amount of 100,000 dollars has been exceeded. And this despite the fairly high price of the device, currently $ 258 (1030 PLN), currently at a discount - because Pure will ultimately cost 369 dollars, or 1470 PLN. This is not the end, because the company has the ambition to create a friendly smartphone, offering typical features, but also safe, with low SAR.
Source Mudita thanks to Marcin Gruszka FB