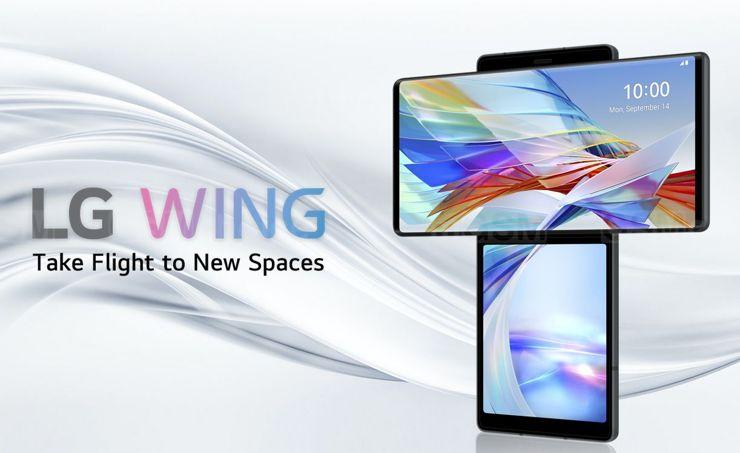 photo: LG
The LG concern today presented an unusual LG Wing smartphone, built as part of the Explorer project. What possibilities does the twisted housing open for us?
A unique feature of LG Wing is its two-piece housing. It creates a kind of "a sandwich". The top layer can be rotated, positioning it horizontally and giving the housing a T-shape. This gives you access to an additional, fully functional display. It can be used as an additional desktop in the game, a connection panel or, for example, to control movie playback. A separate application may appear on it, instead of in an additional window on the main screen. There are many possibilities, and LG will of course provide a software package for application developers to better use the potential of the solution.
As you have noticed, there are two screens. The main one has 6.8 inches, Full HD+ resolution (2460 x 1080 px, 395 ppi) and an aspect ratio of 20.5: 9. The additional screen is almost square, with an aspect ratio of 1: 1.15, a resolution of 1240 x 1080 px (419 ppi) and a diagonal of 3.9 inches. Both screens are made in OLED technology. Despite the use of a two-piece housing, LG Wing is not too thick. Its dimensions are 169.5 x 74.5 x 10.9 mm. The heart of the phone is the Snapdragon 765G processor with a 5G modem, supported by 8 GB of RAM and 128 or 256 GB (in North America) of flash memory. The phone is powered by a 4000 mAh battery.
The manufacturer took care of the durability of the unusual mechanism. It has been checked for durability - thanks to which LG declares its efficiency for 200,000 work cycles. In addition, the inside of the phone is protected with a hydrophobic coating in case of accidental getting wet. Due to its construction, it is difficult to expect that LG Wing is fully waterproof. Many of you probably wonder what will happen when sand gets between the restoration layers... Nothing should happen, because the additional screen is covered with a special, scratch-resistant POM material. The housing has also received the Mil-STD-810G certificate. The device is not too heavy - it weighs 260 g.
LG Winghas a 32-megapixel selfie camera (f/1.9) that can be hidden on a boom, as well as a triple rear camera, with a main matrix of 64 Mpx, aperture f/1.8 and two wide-angle modules. One has 13 megapixels, a field of view of 117 degrees and an aperture of f/1.9, while the other has 12 Mpx, field of view of 120 and an aperture of f/2.2, but with a gimbal image stabilization mechanism. This module is of course dedicated to filming. The smartphone will be offered in two colors: Aurora Gary and Ilusion Sky. The smartphone will be available in Korea from October and will be available in other countries later. The price has not been announced yet.
LG Wing - Technical specifications
Display
Color / P-OLED
16M colors
1080 x 2460 px (6.80") 395 ppi
∼87.0% screen-to-body ratio
Standard battery
Li-Ion 4000 mAh
Quick battery charging
Quick Charge 4.0+
Wireless battery charging

Operating system
Android 10
Processor
Qualcomm Snapdragon 765G
Processor clock: 2.40 GHz
Number of cores: 8


GPU: Adreno 620

RAM memory
8 GB
Internal memory
128 GB, 256 GB
DualSIM

Qualcomm Snapdragon 765G
Processor clock: 2.40 GHz
Number of cores: 8


GPU: Adreno 620

First camera

Camera location
Back
Photo matrix
64 Mpx
Optical zoom

Digital zoom

Flash

LED
Additional
AF, EIS, OIS, f/1.8

Second camera

Camera location
Back
Photo matrix
13 Mpx
Optical zoom

Digital zoom

Flash

LED
Additional
FF, f/1.9

Third camera

Camera location
Back
Photo matrix
12 Mpx
Optical zoom

Digital zoom

Flash

LED
Additional
FF, f/2.2

Fourth camera

Camera location
Front
Photo matrix
32 Mpx
Optical zoom

Digital zoom

Flash

Additional
FF, f/1.9
Source LG