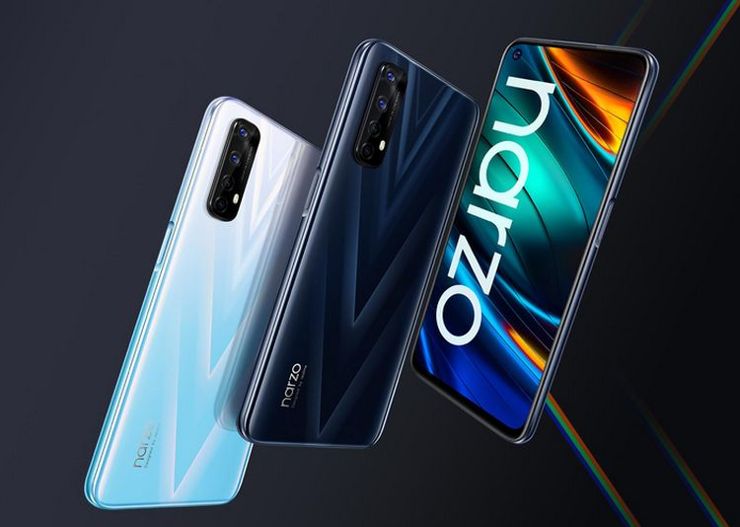 photo: Realme
The Indian branch of Realme officially presented as many as three new models from the Narzo family. Introducing Narzo 20a, Narzo 20 and Narzo 20 Pro.
Realme Narzo 20a
Realme Narzo 20a is the cheapest and simplest model in the new family. The smartphone has a subdued, quite ordinary styling, referring to its predecessor, i.e. Narzo 10a. So we have a vertical rear camera frame and a droplet notch in the 6.5-inch HD+ screen. The heart of this model is the Snapdragon 665 processor, supported by 3 or 4 GB of RAM and 32 or 64 GB flash memory. The memory can of course be enlarged with a microSD card without giving up DualSIM - the slot is triple. Power is supplied by a 5000 mAh battery - but without quick charging. The 8 Mpx camera is responsible for the selfie. Narzo 20a has an interesting camera on the back. The 12-megapixel main matrix (f/1.8) is supported by two 2-megapixel ones, but both of them are rather dedicated to portraits. One is monochrome and the other, called "Retro lens", is responsible for the colour filters. There are two housing colours to choose from, and prices are, depending on memory, Rs 8,499 or 9,499, which is $ 115-130.
Realme Narzo 20
Realme Narzo 20, the basic model, has a Helio G85 processor, supported by 4 GB of RAM and 64 or 128 GB flash memory. In the front we still have a 6.5-inch HD+ display with a droplet notch for an 8-megapixel selfie camera, but on the back we can see a different styling, with a "cooker" camera frame. The photographic set is "more powerful" here, as it includes a main 48 Mpx matrix and an 8 Mpx wide-angle camera, supplemented by a 2-megapixel macro lens. Realme has packed a battery with a capacity of up to 6000 mAh in the housing, with fast 18 W charging and a power bank function. Again, we have two housing colours to choose from and two prices, depending on the internal memory: 10,499 and 11,499 rupees, which is 143-157 USD.
Realme Narzo 20 Pro
Realme Narzo 20 Pro is a top proposition. The screen is still 6.5-inch, but already Full HD+, with a 90 Hz image refresh and a more fashionable selfie camera placement. The 16-megapixel matrix is hidden in a small hole in the corner of the display. The heart of the phone is the Helio G95 processor, combined with 6 or 8 GB RAM and 64 or 128 GB flash. Additionally we have a double battery with a total capacity of 4500 mAh with fast charging with a power of 65 W. The camera is only a slight upgrade compared to the base model. For 48, 8 and 2 Mpx matrices, another 2 Mpx monochrome was added to blur the background. The housing colours are again two, and so are the prices. 14,999 rupees for the 6+64 GB version and 16,999 rupees for the 8+128 GB variant. Converting, we're talking about $ 205-232.
Realme Narzo 20 - Technical specifications
Display
Color / IPS TFT
16M colors
720 x 1600 px (6.50") 270 ppi
∼81.7% screen-to-body ratio
Standard battery
Li-Ion 6000 mAh
Quick battery charging
Quick Charge
Wireless battery charging

Operating system
Android 10
Processor
MediaTek Helio G85
Processor clock: 2.00 GHz
Number of cores: 8

RAM memory
4 GB
Internal memory
64 GB, 128 GB
DualSIM

dual standby
SIM cards standard
nanoSIM, nanoSIM
Hybrid DualSIM

First camera

Camera location
Back
Photo matrix
48 Mpx
Optical zoom

Digital zoom
10x
Flash

LED
Additional
AF, f/1.79

Second camera

Camera location
Back
Photo matrix
8 Mpx
Optical zoom

Digital zoom

Flash

LED
Additional
FF, f/2.25

Third camera

Camera location
Back
Photo matrix
2 Mpx
Optical zoom

Digital zoom

Flash

LED
Additional
FF, f/2.4

Fourth camera

Camera location
Front
Photo matrix
8 Mpx
Optical zoom

Digital zoom

Flash

Additional
FF, f/2.0
Realme Narzo 20 Pro - Technical specifications
Display
Color / IPS TFT
16M colors
1080 x 2400 px (6.50") 405 ppi
∼83.4% screen-to-body ratio
Standard battery
Li-Ion 4500 mAh
Quick battery charging

Wireless battery charging

Operating system
Android 10
Processor
MediaTek Helio G95
Processor clock: 2.05 GHz
Number of cores: 8


GPU: ARM Mali-G76 MC4 @900 MHz

RAM memory
6 GB, 8 GB
Internal memory
64 GB, 128 GB
DualSIM

dual standby
SIM cards standard
nanoSIM, nanoSIM
Hybrid DualSIM

First camera

Camera location
Back
Photo matrix
48 Mpx
Optical zoom

Digital zoom
10x
Flash

LED
Additional
AF, EIS, f/1.8

Second camera

Camera location
Back
Photo matrix
8 Mpx
Optical zoom

Digital zoom

Flash

LED
Additional
FF, f/2.3

Third camera

Camera location
Back
Photo matrix
2 Mpx
Optical zoom

Digital zoom

Flash

LED
Additional
FF, f/2.4

Fourth camera

Camera location
Back
Photo matrix
2 Mpx
Optical zoom

Digital zoom

Flash

LED
Additional
FF, f/2.4

Fifth camera

Camera location
Front
Photo matrix
16 Mpx, Sony IMX471
Optical zoom

Digital zoom

Flash

Additional
FF, EIS, f/2.1
Realme Narzo 20a - Technical specifications
Display
Color / IPS TFT
16M colors
1080 x 2400 px (6.50") 405 ppi
∼82.7% screen-to-body ratio
Standard battery
Li-Ion 5000 mAh
Quick battery charging

Wireless battery charging

Operating system
Android 10
Processor
Qualcomm Snapdragon 665
Processor clock: 2.00 GHz
Number of cores: 8


GPU: Adreno 610

RAM memory
3 GB, 4 GB
Internal memory
32 GB, 64 GB
DualSIM

dual standby
SIM cards standard
nanoSIM, nanoSIM
Hybrid DualSIM

First camera

Camera location
Back
Photo matrix
12 Mpx
Optical zoom

Digital zoom
10x
Flash

LED
Additional
AF, f/1.8

Second camera

Camera location
Back
Photo matrix
2 Mpx
Optical zoom

Digital zoom

Flash

LED
Additional
FF, f/2.4

Third camera

Camera location
Back
Photo matrix
2 Mpx
Optical zoom

Digital zoom

Flash

LED
Additional
FF, f/2.4

Fourth camera

Camera location
Front
Photo matrix
8 Mpx
Optical zoom

Digital zoom

Flash

Additional
FF, f/2.0