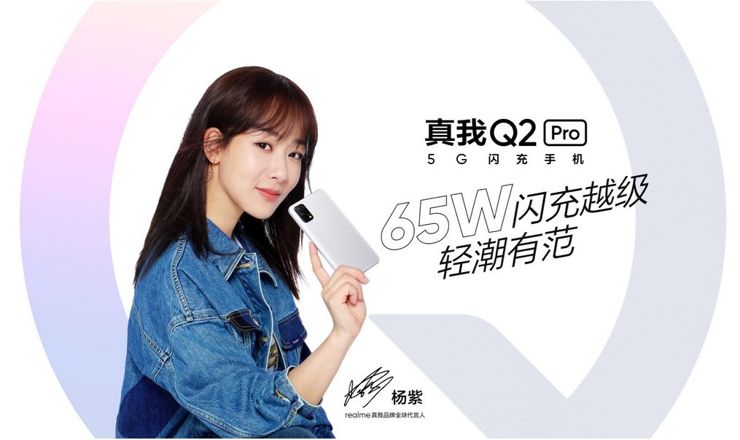 photo: Realme
Realme today introduced three new models: Realme Q2, Realme Q2 Pro and Realme Q2i. All three support 5G networks and are in the middle of the price range.
Realme Q2 Pro
We start the overview of new products with the top model of the new series. Realme Q2 Pro has a 6.4-inch AMOLED Full HD+ display with a hole for a 16-megapixel selfie camera (f/2.1). The screen has an integrated fingerprint reader, and inside the housing there is a MediaTek Dimensity 800U processor, supported by 8 GB of RAM. The rear camera has a main matrix of 48 Mpx, a wide-angle 8 Mpx module and two 2-megapixels for macro and background blurring. The smartphone is powered by a 4500 mAh battery with 65 W fast charging. The price, depending on the selected memory (128 or 256 GB), is 1799 or 1999 yuan - $ 267-297.
Realme Q2
The basic model of the series, Realme Q2, is slightly larger - it has a 6.5-inch screen, again with a hole for a 16-megapixel selfie camera, again Full HD+, but made in LCD technology. The fingerprint reader therefore had to go to the side of the housing. Realme Q2 has the same processor as the Pro variant, but is paired with either 4 or 6 GB of RAM. In turn, the internal memory is here in one variant, 128 GB. The rear camera, like the front one, is similar to that used in the Pro model, but has one lens less. One 2 Mpx module is left (to the background), so it's not a loss... Realme Q2 powers a 5000 mAh battery with 30 W fast charging. The price of the phone, depending on the selected RAM, is 1299 or 1399 yuan - 193-208 USD.
Realme Q2i
Realme Q2i, the cheapest model in the series, differs from the brothers in styling: it has a square, not rectangular rear camera frame, and a droplet notch in the front instead of a hole. In addition, it already has a classic fingerprint reader on the back of the housing. The smartphone has an LCD screen with a diagonal of 6.52 inches and HD+ resolution, but it can still boast a battery with a capacity of 5000 mAh, but with a charging power of only 18 W. The heart of this model is the Dimensity 720 chip, supported by 4+128 memory GB. On the front we find an 8-megapixel selfie camera, and on the back - a 13-megapixel, with two 2-megapixels added so that the whole thing does not look too modest. This model was priced at 998 yuan, or $ 148.