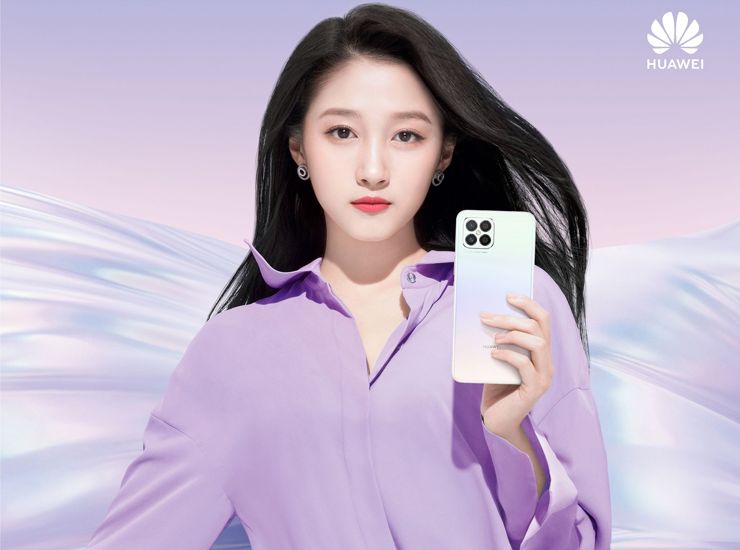 photo: Huawei
The smartphone that we already knew everything about was officially announced by the manufacturer. We can verify the data and find out the price.
As expected, we have two variants of this smartphone. The basic one has a Mediatek Dimensity 720 processor and supports DualSIM mode in the 5G+4G system. In turn, in the High Edition model we find MediaTek Dimensity 800U, supporting 5G on both DualSIM cards. And these are the only differences between the Huawei Nova 8 SE versions.
The rest of the specification is the same in both variants. We have 8 GB of LPDDR4x RAM and 128 GB of expandable (microSD) internal UFS 2.1 memory, as well as a 3800 mAh battery with fast 66 W charging. The smartphone received a 6.53-inch display with a 20: 9 aspect ratio and Full resolution HD+ with a built-in fingerprint reader and a droplet notch for a 16-megapixel selfie camera. The rear camera, the frame of which evokes associations with the iPhone, has a main matrix of 64 Mpx and f/1.9 lens and an 8 Mpx, f/2.4 wide-angle module. The set is completed by two "obligatory" 2 Mpx cameras with f/2.4 lenses.
Huawei Nova 8 SE has two variants, therefore the prices are two: 2599 and 2699 yuan. Converted to $ 395 and $ 409.
Huawei Nova 8 SE - Technical specifications
Display
Color / OLED
16M colors
1080 x 2400 px (6.53") 403 ppi
∼85.2% screen-to-body ratio
Standard battery
Li-Ion 3800 mAh
Quick battery charging
SuperCharge
Wireless battery charging

Operating system
Android 10
Processor
MediaTek Dimensity 720 MT6853
Processor clock: 2.00 GHz
Number of cores: 8


GPU: ARM Mali-G57 MC3

RAM memory
8 GB
Internal memory
128 GB
DualSIM

dual standby
SIM cards standard
nanoSIM, nanoSIM
Hybrid DualSIM

First camera

Camera location
Back
Photo matrix
64 Mpx
Optical zoom

Digital zoom
10x
Flash

LED
Additional
AF, f/1.9

Second camera

Camera location
Back
Photo matrix
8 Mpx
Optical zoom

Digital zoom

Flash

LED
Additional
FF, f/2.4

Third camera

Camera location
Back
Photo matrix
2 Mpx
Optical zoom

Digital zoom

Flash

LED
Additional
FF, f/2.4

Fourth camera

Camera location
Back
Photo matrix
2 Mpx
Optical zoom

Digital zoom

Flash

LED
Additional
FF, f/2.4

Fifth camera

Camera location
Front
Photo matrix
16 Mpx
Optical zoom

Digital zoom

Flash

Additional
FF, f/2.0
Huawei Nova 8 SE 5G - Technical specifications
Display
Color / OLED
16M colors
1080 x 2400 px (6.53") 403 ppi
∼85.2% screen-to-body ratio
Standard battery
Li-Ion 3800 mAh
Quick battery charging
SuperCharge
Wireless battery charging

Operating system
Android 10
Processor
MediaTek Dimensity 800U
Processor clock: 2.40 GHz
Number of cores: 8


GPU: ARM Mali-G57 MC3

RAM memory
8 GB
Internal memory
128 GB
DualSIM

dual standby
SIM cards standard
nanoSIM, nanoSIM
Hybrid DualSIM

First camera

Camera location
Back
Photo matrix
64 Mpx
Optical zoom

Digital zoom
10x
Flash

LED
Additional
AF, f/1.9

Second camera

Camera location
Back
Photo matrix
8 Mpx
Optical zoom

Digital zoom

Flash

LED
Additional
FF, f/2.4

Third camera

Camera location
Back
Photo matrix
2 Mpx
Optical zoom

Digital zoom

Flash

LED
Additional
FF, f/2.4

Fourth camera

Camera location
Back
Photo matrix
2 Mpx
Optical zoom

Digital zoom

Flash

LED
Additional
FF, f/2.4

Fifth camera

Camera location
Front
Photo matrix
16 Mpx
Optical zoom

Digital zoom

Flash

Additional
FF, f/2.0
Source Huawei