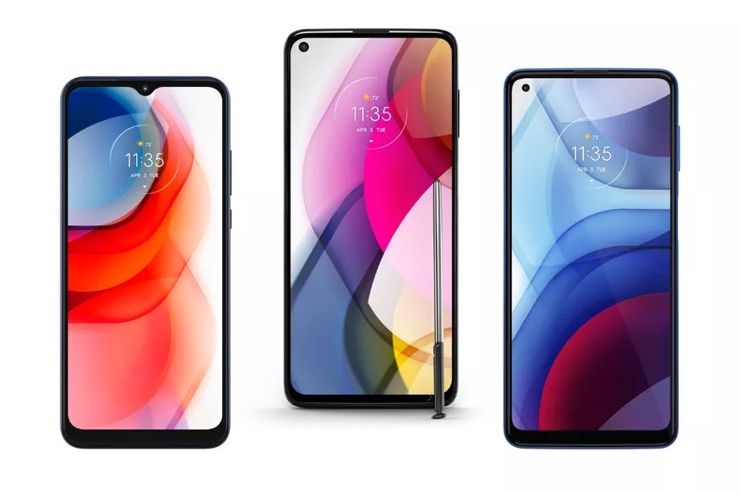 Motorola has just presented a quartet of new budget phones from the MOTO G and One series. One of them is the successor of the Moto G Stylus. We were most interested in the One 5G Ace smartphone.
Motorola has unveiled the latest budget smartphone package. First, it increased the number of models in the popular G series, which has sold over 100 million units since 2013. This year we've got new versions of Moto G Stylus, Moto G Power and Moto G Play models. There is also the One 5G Ace model, costing less than $ 400 - it's the cheapest 5G smartphone in Motorola's offer.
Moto G Stylus (2021)
The first Moto G Stylus model debuted last year, now we've got its refreshed version. The whole structure is similar to the original, with a large screen and a hole for a 16 megapixel selfies camera, changes took place on the rear panel - the fingerprint scanner disappeared from here, moved to the side edge and integrated with the power button, and the camera module was changed (48 MP camera main, 8 MP ultra wide, 2 MP macro). Another change is an improved stylus with a click mechanism that makes it easier to remove the accessory from the casing.
The specification includes a Snapdragon 678 processor supporting 4G LTE networks, as well as 4 GB of RAM, 128 GB of internal memory, support for microSD, a 6.8-inch LCD display with Full HD+ resolution and a battery with a capacity of 4000 mAh. The phone offers 10W charging via USB-C, but unfortunately it does not support NFC. Moto G Stylus runs Android 10. Moto G Stylus 2021 will cost $ 299.99.
---
Moto G Power (2021)
Moto G Power is another improvement to last year's model. The smartphone is equipped with a Snapdragon 662 processor, 3 or 4 GB of RAM, 32 or 64 GB of internal memory (with the possibility of adding additional gigabytes through a microSD card) and a 6.6-inch LCD display with HD resolution. Unfortunately, this device does not have an NFC module. It promises long working times, which is due to a battery with a capacity of 5000 mAh, which is charged with a power of up to 10 W. This is to ensure up to 3 days of work. Like Moto G Stylus, it has a fingerprint sensor mounted on the side edge and works under the control of Android 10. The main camera is 48 MP for photos, and the camera offers 8 MP for selfies. Moto G Power 2021 was priced at $ 199.99 for the basic 32GB version and $ 249.99 for the 64GB version. Deliveries will start on January 13.
---
Moto G Play (2021)
The most affordable device presented by Motorola today is Moto G Play. The phone costs $ 169.99 - we get a Snapdragon 460 processor, 3 GB of RAM, 32 GB of memory (with microSD), a 5000 mAh battery and a 6.5-inch 720p display with a 5 MP indentation camera for selfies. The main camera has 13 MP and is supported by a 2 MP depth camera. Like the rest of the phones presented today, the Moto G Play model has Android 10 and is only available in blue. Deliveries will start on January 13.
---
Moto One 5G Ace
This is a smartphone that is to be Motorola's answer to the Pixel 4a or OnePlus Nord models. It is equipped with a Qualcomm Snapdragon 750G processor that supports 5G connectivity and offers better performance than other models that made their debut today (although in fact it lags behind other phones in its price range). Moto One 5G Ace costs $ 399 for the 6/128 GB model. Deliveries will start on January 13. The device will be available only in the silver colour version.
Moto One 5G Ace has a 6.7-inch Full HD+ LCD display and 5000 mAh battery, supports microSD cards and allows you to make contactless payments via NFC. In addition, four cameras on the rear panel with a 48MP main camera. The 16 MP camera placed in the hole on the screen is responsible for selfies.
Source Motorola 1, 2, 3, 4