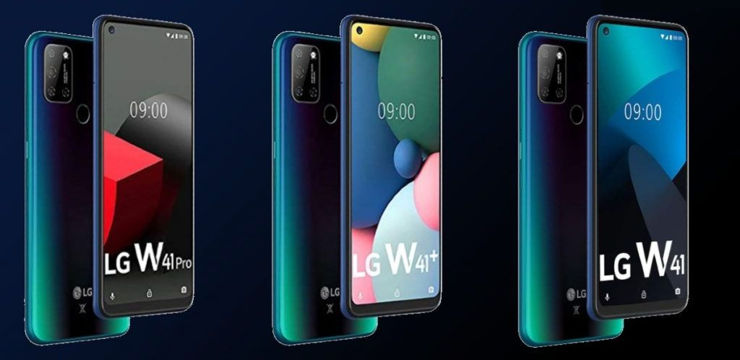 photo: MySmartPrice
Soon, inexpensive triplets from LG will debut in India. We are talking about closely related models LG W41, LG W41+ and LG W41 Pro.
LG W41, LG W41+ and LG W41 Pro share most of the specifications, differing practically only in memory versions. We can therefore safely say that we are dealing with one new smartphone, offered in three varieties. The LG W41 Series phones will receive MediaTek Helio G35 processors and 5000 mAh batteries. In all three models we find HD + displays with a diagonal of 6.55 inches, with holes for 8-megapixel selfie cameras. In turn, in so many new models we will see quad cameras, with a main matrix of 48 Mpx, a wide-angle 8 Mpx module and two 2 Mpx modules for macro and background blurring.
LG W41, LG W41+ and LG W41 Pro will support two SIM cards in LTE networks, they will also allow you to expand the memory with a microSD card. Access to phones will be guarded by classic fingerprint readers and face recognition systems. LG W41 will receive a memory in the completion of 4+64 GB, while in LG W41+ we can find 4+128 GB. The top model, LG W41 Pro, will feature a set of 6+128 GB.
LG W41 - Technical specifications
Display
Color / IPS TFT
16M colors
720 x 1600 px (6.55") 268 ppi
∼80.5% screen-to-body ratio
Standard battery
Li-Ion 5000 mAh
Quick battery charging

Wireless battery charging

Operating system
Android 10
Processor
MediaTek Helio G35
Processor clock: 2.30 GHz
Number of cores: 8


GPU: PoverVR GE8320 @680 MHz

RAM memory
4 GB
Internal memory
64 GB
DualSIM

dual standby
SIM cards standard
nanoSIM, nanoSIM
Hybrid DualSIM
nanoSIM, microSD

First camera

Camera location
Back
Photo matrix
48 Mpx
Optical zoom

Digital zoom

Flash

LED
Additional
AF

Second camera

Camera location
Back
Photo matrix
8 Mpx
Optical zoom

Digital zoom

Flash

LED
Additional
FF

Third camera

Camera location
Back
Photo matrix
5 Mpx
Optical zoom

Digital zoom

Flash

LED
Additional
FF

Fourth camera

Camera location
Back
Photo matrix
2 Mpx
Optical zoom

Digital zoom

Flash

LED
Additional
FF, f/2.0

Fifth camera

Camera location
Front
Photo matrix
8 Mpx
Optical zoom

Digital zoom

Flash

Additional
FF
LG W41+ - Technical specifications
Display
Color / IPS TFT
16M colors
720 x 1600 px (6.55") 268 ppi
∼80.5% screen-to-body ratio
Standard battery
Li-Ion 5000 mAh
Quick battery charging

Wireless battery charging

Operating system
Android 10
Processor
MediaTek Helio G35
Processor clock: 2.30 GHz
Number of cores: 8


GPU: PoverVR GE8320 @680 MHz

RAM memory
4 GB
Internal memory
128 GB
DualSIM

dual standby
SIM cards standard
nanoSIM, nanoSIM
Hybrid DualSIM
nanoSIM, microSD

First camera

Camera location
Back
Photo matrix
48 Mpx
Optical zoom

Digital zoom

Flash

LED
Additional
AF

Second camera

Camera location
Back
Photo matrix
8 Mpx
Optical zoom

Digital zoom

Flash

LED
Additional
FF

Third camera

Camera location
Back
Photo matrix
5 Mpx
Optical zoom

Digital zoom

Flash

LED
Additional
FF

Fourth camera

Camera location
Back
Photo matrix
2 Mpx
Optical zoom

Digital zoom

Flash

LED
Additional
FF, f/2.0

Fifth camera

Camera location
Front
Photo matrix
8 Mpx
Optical zoom

Digital zoom

Flash

Additional
FF
LG W41 Pro - Technical specifications
Display
Color / IPS TFT
16M colors
720 x 1600 px (6.55") 268 ppi
∼80.5% screen-to-body ratio
Standard battery
Li-Ion 5000 mAh
Quick battery charging

Wireless battery charging

Operating system
Android 10
Processor
MediaTek Helio G35
Processor clock: 2.30 GHz
Number of cores: 8


GPU: PoverVR GE8320 @680 MHz

RAM memory
6 GB
Internal memory
128 GB
DualSIM

dual standby
SIM cards standard
nanoSIM, nanoSIM
Hybrid DualSIM
nanoSIM, microSD

First camera

Camera location
Back
Photo matrix
48 Mpx
Optical zoom

Digital zoom

Flash

LED
Additional
AF

Second camera

Camera location
Back
Photo matrix
8 Mpx
Optical zoom

Digital zoom

Flash

LED
Additional
FF

Third camera

Camera location
Back
Photo matrix
5 Mpx
Optical zoom

Digital zoom

Flash

LED
Additional
FF

Fourth camera

Camera location
Back
Photo matrix
2 Mpx
Optical zoom

Digital zoom

Flash

LED
Additional
FF, f/2.0

Fifth camera

Camera location
Front
Photo matrix
8 Mpx
Optical zoom

Digital zoom

Flash

Additional
FF
Source MySmartPrice