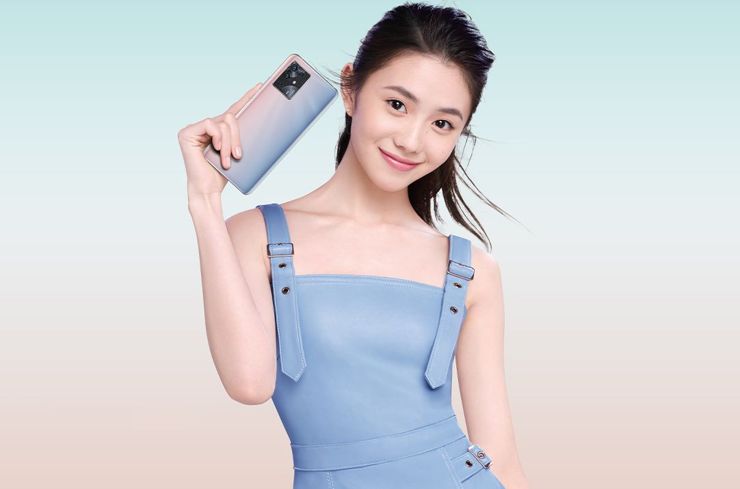 photo: ZTE
ZTE presented a new series of smartphones in China. It consists of three models: ZTE S30, ZTE S30 Pro and ZTE S30 SE.
ZTE S30, ZTE S30 Pro and ZTE S30 SE all support 5G and have 6.67-inch AMOLED displays with Full HD+ resolution. Another common feature is styling, although the cheapest model is slightly different from the basic ones. And that's where the similarities end.
ZTE S30 SE
ZTE S30 SE is the cheapest model of the new series. It has a screen with a 90 Hz refresh rate, a MediaTek Dimensity 700 processor and 6+128 GB memory. The power supply is provided by a 6000 mAh battery, and the photos are provided by a triple camera with 48, 5 and 2 Mpx matrices. The price is 1698 yuan, or $ 259.
ZTE S30
ZTE S30, the main model, has a MediaTek Dimensity 720 processor, supported by 8 GB of RAM. Unfortunately, a smaller battery was used here - 4000 mAh, but with 30 W fast charging. We also have a better photographic set: 16 Mpx for selfies and 64+8+2+2 Mpx on the back. This is a typical set of additional cameras: wide-angle, macro and background blurring. This model, as the only one in the series, is available in two memory versions: 128 or 256 GB. Therefore, it also has two prices: 2,198 and 2,398 yuan. Converted to $ 336-366.
ZTE S30 Pro
The top model of the series - ZTE S30 Pro - differs from the others with an increased screen refresh rate - 144 Hz - as well as the processor: Qualcomm Snapdragon 768G. The system is supported by 8+256 GB memory, and the rear camera is the same as in the base model. In turn, the selfie camera is better, because it is 44-megapixel. It is powered by a battery with a capacity of 4200 mAh, with a fast charge of 55 W. The price of this model is 2998 yuan, or $ 458.
ZTE S30 - Technical specifications
Display
Color / IPS TFT
16M colors
1080 x 2400 px (6.67") 395 ppi
∼85.3% screen-to-body ratio
Standard battery
Li-Ion 4000 mAh
Quick battery charging

Wireless battery charging

Operating system
Android 10
Processor
MediaTek Dimensity 720 MT6853
Processor clock: 2.00 GHz
Number of cores: 8


GPU: ARM Mali-G57 MC3

RAM memory
8 GB
Internal memory
128 GB, 256 GB
DualSIM

dual standby
SIM cards standard
nanoSIM, nanoSIM
Hybrid DualSIM

First camera

Camera location
Back
Photo matrix
64 Mpx
Optical zoom

Digital zoom

Flash

LED
Additional
AF, f/1.8

Second camera

Camera location
Back
Photo matrix
8 Mpx
Optical zoom

Digital zoom

Flash

LED
Additional
FF, f/2.2

Third camera

Camera location
Back
Photo matrix
5 Mpx
Optical zoom

Digital zoom

Flash

LED
Additional
FF, f/2.4

Fourth camera

Camera location
Back
Photo matrix
2 Mpx
Optical zoom

Digital zoom

Flash

LED
Additional
FF, f/2.4

Fifth camera

Camera location
Front
Photo matrix
16 Mpx
Optical zoom

Digital zoom

Flash

Additional
FF
ZTE S30 SE - Technical specifications
Display
Color / IPS TFT
16M colors
1080 x 2400 px (6.67") 395 ppi
∼84.1% screen-to-body ratio
Standard battery
Li-Ion 6000 mAh
Quick battery charging

Wireless battery charging

Operating system
Android 10
Processor
MediaTek Dimensity 700 MT6833
Processor clock: 2.20 GHz
Number of cores: 8


GPU: ARM Mail-G57 MC2 @955 Mhz

RAM memory
6 GB
Internal memory
128 GB
DualSIM

dual standby
SIM cards standard
nanoSIM, nanoSIM
Hybrid DualSIM

First camera

Camera location
Back
Photo matrix
48 Mpx
Optical zoom

Digital zoom

Flash

LED
Additional
AF, f/1.79

Second camera

Camera location
Back
Photo matrix
5 Mpx
Optical zoom

Digital zoom

Flash

LED
Additional
FF, f/2.4

Third camera

Camera location
Back
Photo matrix
2 Mpx
Optical zoom

Digital zoom

Flash

LED
Additional
FF, f/2.4

Fourth camera

Camera location
Back
Photo matrix
8 Mpx
Optical zoom

Digital zoom

Flash

Additional
FF
ZTE S30 Pro - Technical specifications
Display
Color / OLED
16M colors
1080 x 2400 px (6.67") 395 ppi
∼87.2% screen-to-body ratio
Standard battery
Li-Ion 4200 mAh
Quick battery charging

Wireless battery charging

Operating system
Android 10
Processor
Qualcomm Snapdragon 768G
Processor clock: 2.80 GHz
Number of cores: 8


GPU: Adreno 620

RAM memory
8 GB
Internal memory
256 GB
DualSIM

dual standby
SIM cards standard
nanoSIM, nanoSIM
Hybrid DualSIM

First camera

Camera location
Back
Photo matrix
64 Mpx
Optical zoom

Digital zoom

Flash

LED
Additional
AF, f/1.8

Second camera

Camera location
Back
Photo matrix
8 Mpx
Optical zoom

Digital zoom

Flash

LED
Additional
FF, f/2.2

Third camera

Camera location
Back
Photo matrix
5 Mpx
Optical zoom

Digital zoom

Flash

LED
Additional
FF, f/2.4

Fourth camera

Camera location
Back
Photo matrix
2 Mpx
Optical zoom

Digital zoom

Flash

LED
Additional
FF, f/2.4

Fifth camera

Camera location
Front
Photo matrix
44 Mpx
Optical zoom

Digital zoom

Flash

Additional
FF
Source ZTE