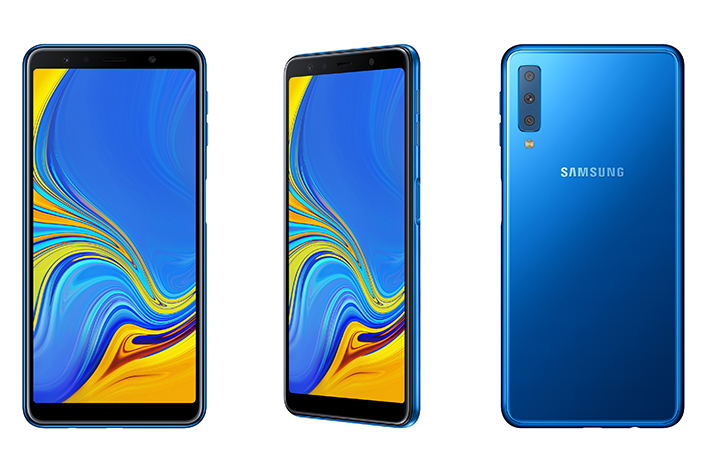 photo: Samsung
Samsung presented its first smartphone with a triple camera. The model was called Samsung Galaxy A7 ... Sounds familiar?
Samsung again "muddled" in the markings. We've already had the Galaxy A7 model, as well as A7 2016 or A7 2017... The new one was simply named Galaxy A7 - without any additional note. On the one hand, you can praise the unification of naming - on the other - how will customers get to know about which A7 is referred to? You have to use an additional designation, or just think of it as A7 2018.
Let's leave the naming and let's take care of the phone. Here - the new camera is the most important. It has three dies and lenses. The main has 24 megapixels and a bright f/1.7 lens, so it will be good in taking photos in lower light - especially that it has the ability to combine four adjacent pixels into one larger to capture more light at the expense of reducing the resolution of the image. Another matrix has 8 megapixels and a wide-angle lens with a 120 degree field of view and f/2.4 aperture. The last, 5-megapixel matrix with f/2.2 lens captures depth of field information and supports digital background blur. The set comes with a f/2.0 selfie camera with a matrix of 24 Mpx and a LED diode. There are also artificial intelligence, digital effects and AR Emoji.
In addition to the triple camera, Samsung Galaxy A7 2018 has a 6-inch, AMOLED display Infinity Display with Full HD+ resolution and an octa-core processor with a clock speed of 2.2 GHz. This one, however, may be different - depending on the target market. RAM is available in 4 or 6 GB versions, while the internal one is 64 or 128 GB. Interestingly, models with 128 GB memory will not have a microSD card slot. Availability of individual versions will vary between markets. We will find out about this after the official launch, which was announced for the evening of October 11. For now, we know that there are versions:
4 GB RAM, 64 GB flash + microSD up to 512 GB
4 GB RAM, 128 GB flash
6 GB RAM, 128 GB flash
The equipment will also include dual band Wi-Fi, Bluetooth 5.0, ANT +, USB Type-B, GPS, Glonass, BeiDou and gyroscope, of course LTE category 6. NFC is to be optional, but I strongly hope that we will not miss it. The smartphone operating under the control of Android 8.0 will supply a 3300 mAh battery. There will also be Bixby and Dolby Atmos sound system, and a minijack. There is not a fingerprint reader on the back or front but they have not forgotten about it. Look sideways - it's connected to the power button!
For now, we know that there are four colour versions, and the housing has dimensions of 159.8 x 76.8 x 7.5 mm. The new Samsung Galaxy A7 2018 weighs 168 g, and its prices will probably be known only in October.
Source Samsung