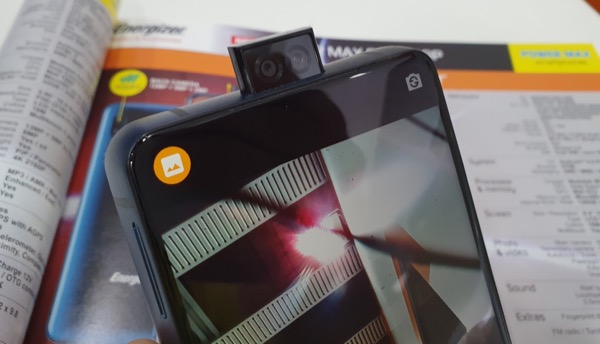 photo: Adam Łukowski/GSMchoice.com
Energizer announced 26 devices before the MWC and actually presented them. These are both simple phones and advanced smartphones, delivering innovative features, from pop-up cameras to professional scanning functions in robust phones. The offer includes even a folded smartphone and a copy with a battery with a capacity of 18,000 mAh.
Energizer is one of the largest battery manufacturers in the world. It sells its products - primarily batteries - in 140 countries. But it makes the license for the Energizer brand available to Avenir Telecom (from 2010), which produces a number of phones and smartphones with the Energizer logo. Their main distinguishing feature is primarily the long working time on a single charge, provided by the capacious batteries.
During the MWC it presented a whole range of new phones and smartphones in four series: Energy, Hardcase, Power Max and Ultimate.
Energizer - Energy series
In the Energy series - which focuses on simplicity and low price, a number of new models have been presented:
Energy E12
Energy E22 (2G)
Energy E220 (3G)
Energy E220S (4G)
Energy E24 (2G)
Energy E241(3G)
Energy E214S (4G)
Energy E401
Energy E551S
The Energy series includes phones operating on the KaiOS platform - Avenir Telecom, which owns the Energizer license, concluded in mid-February a partnership with KaiOS Technologies, which resulted in the launch of new, simple phones from the lowest price range. Their prices start from 29.99 euro.
Energizer - Hardcase series
Hardcase is a series of models that provide high durability and resistance to external conditions. At the MWC, its debut has:
Hardcase H10
Hardcase H241
Hardcase H242 (3G)
Hardcase H242S (4G)
Hardcase H280S
Hardcase H501S
Hardcase H570S
Hardcase H570S Scan
Hardcase H591S
The Hardcase series includes models based on the light KaiOS system, operating in 3G and 4G networks, waterproof IP68) and durable. They support basic communication modules (4G VoLTE, GPS, Wi-Fi) and provide many useful preinstalled applications, eg Google Maps, YouTube or Facebook. The devices have different battery capacities - from 1500 mAh (in H242S), through 2000 mAh (in H280S), up to 2500 mAh (in H241).
The H501S, H570S and H591S models have capacious batteries - up to 6500 mAh and are extremely robust, as confirmed by the IP68 and MIL-STD certifications. The phones will withstand a fall from a height of 1.2 meters and immersion for 30 minutes to a depth of up to 1.5 meters. In addition, their screens are protected by Gorilla Glass. They support two SIM cards, have HD+ or Full HD+ displays in 18: 9 aspect ratio and dual cameras. There is also a NFC module.
Energizer - Power Max series
Power Max - is the most interesting series in which we can find smartphones with powerful batteries:
Power Max P551S - 5000 mAh battery
Power Max P18K Pop - battery with a capacity of 18 000 mAh
Power Max P8100S - battery with a capacity of 10,000 mAh
Let's start with Energizer P18K Pop, which is referred to as a unique smartphone with the most powerful battery - and in fact, which smartphone can still boast a battery with a capacity of 18 000 mAh? This is to provide up to 90 hours of talk time, up to 100 hours of music listening and about 2 days of video watching - on a single charge. In standby mode, the battery will last for up to 50 days. The USB-C port is used for charging the battery, there is also support for fast charging technology. In addition, the smartphone is to offer five cameras - including two front (16+2 MP) pop-up type, ie placed in a pop-up module on the upper edge, a large screen with a diagonal of 6.2 inches and Full HD+ resolution. The main camera has three cameras: 12 MP+5 MP+2 MP. The smartphone drives Mediatek Helio 70, supported by 6 GB of RAM and 128 GB of internal memory. The smartphone is to be available for sale in the summer.
We cannot omit the foldable smartphone, Power Max P8100S, which is equipped with a 10000 mAh battery and a triple camera that delivers photos with resolutions up to 48 megapixels. A 6-inch screen with an aspect ratio of 18: 9 when unfolded gains a diagonal of 8.1 inches and a 4: 3 aspect ratio. The smartphone is also supposed to support 5G networks.
Energizer - Ultimate series
The latest line of smartphones, Ultimate, is a series that focuses on advanced technologies, innovative features and elegant design:
Ultimate U620S
Ultimate U620S Pop
Ultimate U630S Pop
Ultimate U650S
The Ultimate official series debuted at this year's MWC. It includes six models that offer advanced photo functions (eg triple camera in U620S or dual cameras in U570S and U650S), capacious batteries (from 3000 to 4000 mAh, charging via USB-C), 4 GB of RAM, from 32 to 128 GB of internal memory, and also powerful Mediatek and Android 9 Pie processors. Their screens have a ratio of 18: 9 or 18.5: 9 and have a small notch in the shape of a drop. Not without significance is the elegant appearance, refined design and attractive, unusual colours of the covers, such as opalescent violet, turquoise or aquamarine.


Source GSMchoice.com, Press News; viewed: 486 times.