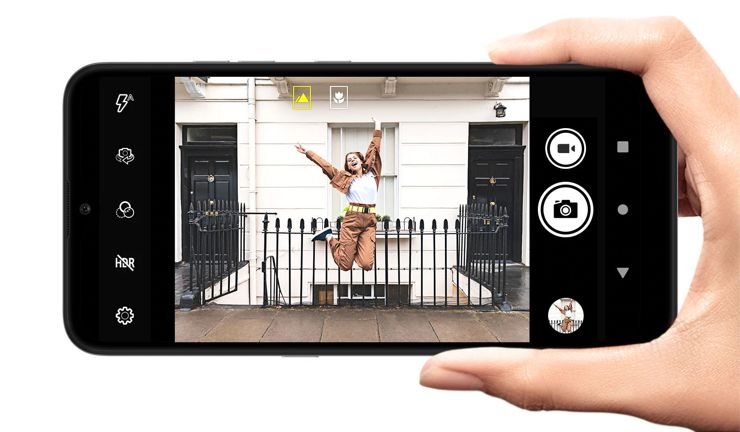 photo: LG
LG has launched two new models on the Brazilian market, LG K22 and LG K22+. In turn, LG K42 appeared in the Dominican Republic. It seems that these are phones dedicated to distribution only in that region.
The LG K22 and LG K22+ models do not differ significantly. Both phones have HD+ screens with a diagonal of 6.22 inches and a Qualcomm QM215 quad-core processor clocked at 1.3 GHz. In both we find 5-megapixel selfie cameras, hidden in the droplet notches of the screen, both models will also offer an identical set of cameras on the back - 13 and 2 Mpx. Smartphones are powered by 3000 mAh batteries, and everything is enclosed in housings with a military certificate of durability. The models really differ in memory capacity: LG K22 has a 2+32 GB set, while in LG K22+ we find 4+64 GB memory.
Nearby, in the Dominican Republic, another LG debuted - this time LG K42, attracting attention with its unusual, wavy texture of the rear panel of the housing. This model also received a display with HD+ resolution, but slightly larger, 6.6-inch. The heart of this model is the MediaTek Helio P22 processor, supported by 3+64 GB memory. LG K42 has an 8-megapixel selfie camera, as well as a quad rear camera, with 13, 5, 2 and Mpx matrices. Of course, additional modules are responsible for wide-angle photos, macro and background blurring. This model is powered by a 4000 mAh battery, and the equipment also includes a DTS: X 3D sound system and - of course - military durability.
LG K22 - Technical specifications
Display
Color / IPS TFT
16M colors
720 x 1520 px (6.20") 271 ppi
∼80.7% screen-to-body ratio
Standard battery
Li-Ion 3000 mAh
Quick battery charging

Wireless battery charging

Operating system
Android 10
Processor
Qualcomm 215
Processor clock: 1.30 GHz
Number of cores: 4


GPU: Adreno 308

RAM memory
2 GB
Internal memory
32 GB
DualSIM

Qualcomm 215
Processor clock: 1.30 GHz
Number of cores: 4


GPU: Adreno 308

SIM card standard
nanoSIM

First camera

Camera location
Back
Photo matrix
13 Mpx
Optical zoom

Digital zoom

Flash

LED
Additional
AF

Second camera

Camera location
Back
Photo matrix
2 Mpx
Optical zoom

Digital zoom

Flash

LED
Additional
FF

Third camera

Camera location
Front
Photo matrix
5 Mpx
Optical zoom

Digital zoom

Flash

Additional
FF
LG K22+ - Technical specifications
Display
Color / IPS TFT
16M colors
720 x 1520 px (6.20") 271 ppi
∼80.7% screen-to-body ratio
Standard battery
Li-Ion 3000 mAh
Quick battery charging

Wireless battery charging

Operating system
Android 10
Processor
Qualcomm 215
Processor clock: 1.30 GHz
Number of cores: 4


GPU: Adreno 308

RAM memory
3 GB
Internal memory
64 GB
DualSIM

Qualcomm 215
Processor clock: 1.30 GHz
Number of cores: 4


GPU: Adreno 308

SIM card standard
nanoSIM

First camera

Camera location
Back
Photo matrix
13 Mpx
Optical zoom

Digital zoom

Flash

LED
Additional
AF

Second camera

Camera location
Back
Photo matrix
2 Mpx
Optical zoom

Digital zoom

Flash

LED
Additional
FF

Third camera

Camera location
Front
Photo matrix
5 Mpx
Optical zoom

Digital zoom

Flash

Additional
FF
LG K42 - Technical specifications
Display
Color / IPS TFT
16M colors
720 x 1600 px (6.59") 266 ppi
∼82.8% screen-to-body ratio
Standard battery
Li-Ion 4000 mAh
Quick battery charging

Wireless battery charging

Operating system
Android 10
Processor
MediaTek Helio P22 MT6762
Processor clock: 2.00 GHz
Number of cores: 8


GPU: PowerVR GE8320 @650 MHz

RAM memory
3 GB
Internal memory
64 GB
DualSIM

MediaTek Helio P22 MT6762
Processor clock: 2.00 GHz
Number of cores: 8


GPU: PowerVR GE8320 @650 MHz

First camera

Camera location
Back
Photo matrix
13 Mpx
Optical zoom

Digital zoom

Flash

LED
Additional
AF, f/2.2

Second camera

Camera location
Back
Photo matrix
5 Mpx
Optical zoom

Digital zoom

Flash

LED
Additional
FF, f/2.2

Third camera

Camera location
Back
Photo matrix
2 Mpx
Optical zoom

Digital zoom

Flash

LED
Additional
FF, f/2.4

Fourth camera

Camera location
Back
Photo matrix
2 Mpx
Optical zoom

Digital zoom

Flash

LED
Additional
FF, f/2.4

Fifth camera

Camera location
Front
Photo matrix
8 Mpx
Optical zoom

Digital zoom

Flash

Additional
FF, f/2.0