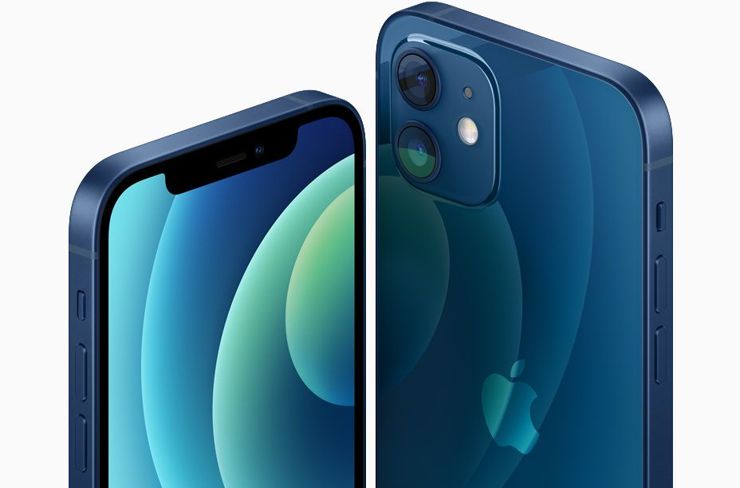 photo: Apple
In sunny California, Apple today presented this year's iPhone models. It was the launch unlike any other. This is the first generation of iPhone, debuting without public participation...
... And in my opinion, unfortunately, another one that we watched without much excitement, which was unthinkable 3-4 years ago. The new iPhone models are not surprising. They support 5G. They have large, unfashionable notches, but they do not have a 120 Hz refresh rate or ultra-fast charging... What do they offer?
iPhone 12
The styling of the iPhone 12 refers a bit to the iconic iPhone 4. The smartphone has sharply cut metal sides as well as the back and front finished with glass. The model is also slimmer and lighter than its predecessor. The iPhone 12 received a 6.1-inch AMOLED Super Retina XDR display with a resolution of 2532x1170 pixels, covered with a hard Ceramic Shield glass, prepared by Corning. It is said to be the most durable glass in the history of smartphones. Of course, the smartphone supports 5G, and thanks to the entire antenna system, it is to provide an impressive level of data transfer, reaching 3.5 Gbit/s, and in the US version (with support for millimeter waves) - even up to 4 Gbit/s.

iPhone 12 uses the Apple A14 Bionic processor, made in 5 nm lithography. The processor has six main cores and four graphics cores, all supported by machine learning and a 16-core neural engine. RAM capacity - traditionally not officially stated, but it can be assumed that it is 6 or 8 GB. The iPhone 12 has a dual camera with 12 Mpx matrices. The basic lens has an aperture of f/1.6 and the wide-angle one - f/2.4. The front camera is also 12-megapixel and has an f/2.2 aperture. The battery capacity was also not given, but it was informed about fast 15W wireless charging. Apple also introduced MagSafe for iPhone. This feature resolves the problem of "aiming" at the cradle during wireless charging. In addition, this solution allows you to create magnetically attached accessories - card wallets or covers. By the way, a new wireless charger was also shown that can charge the iPhone and Apple Watch simultaneously. Everything is closed in a housing with IP68 tightness class. There are as many as five colour versions, and you can choose from 64, 128 and 256 GB memory variants. The prices are as follows:
64 GB - 829 USD, 909 EUR
128 GB - 879 USD, 959 EUR
256 GB - 979 USD, 1079 EUR
iPhone 12 Mini
The iPhone 12 mini is sure to be a hit. It has a screen with a diagonal of 5.4 inches (and a resolution of 2340x1080 pixels), but its dimensions are smaller than the iPhone 5. Apart from smaller dimensions (and probably a battery), it is simply a smaller iPhone 12. The Mini has the same processor, style and cameras. The prices are as follows:
64 GB - 729 USD, 809 EUR
128 GB - 779 USD, 859 EUR
256 GB - 879 USD, 979 EUR
iPhone 12 Pro
The iPhone 12 Pro, like the two smaller models presented today, uses the A14 processor and has a style reminiscent of the iPhone 4. The model has a 6.1-inch screen with a resolution of 2532x1170 pixels, and a quad camera. To the base and wide-angle module, join also a LiDAR sensor and a module with an f/2.0 telephoto lens with 4x lossless zoom. All three matrices are 12-megapixel, and the primary and tele - are equipped with optical stabilization. The cameras allow you to record HDR movies, and in the future the Pro model will receive Apple ProRAW software, supporting image processing and significantly improving the quality of photos. The smartphone will be offered in four colour versions. You can choose from 128, 256 and 512 GB. The prices are as follows:
128 GB - 999 USD, 1159 EUR
256 GB - 1099 USD, 1279 EUR
512 GB - 1299 USD, 1509 EUR
iPhone 12 Pro Max
The Apple iPhone 12 Pro Max is basically the same as the iPhone 12 Pro. However, it has a larger, 6.7-inch display with a resolution of 2778x1284 pixels and - probably - a larger battery. The telephoto lens is also slightly different. It only zooms in at 2x and has an f/2.2 aperture. The prices are as follows:
128 GB - 1099 USD, 1259 EUR
256 GB - 1199 USD, 1379 EUR
512 GB - 1399 USD, 1609 EUR
Source GSMchoice.com