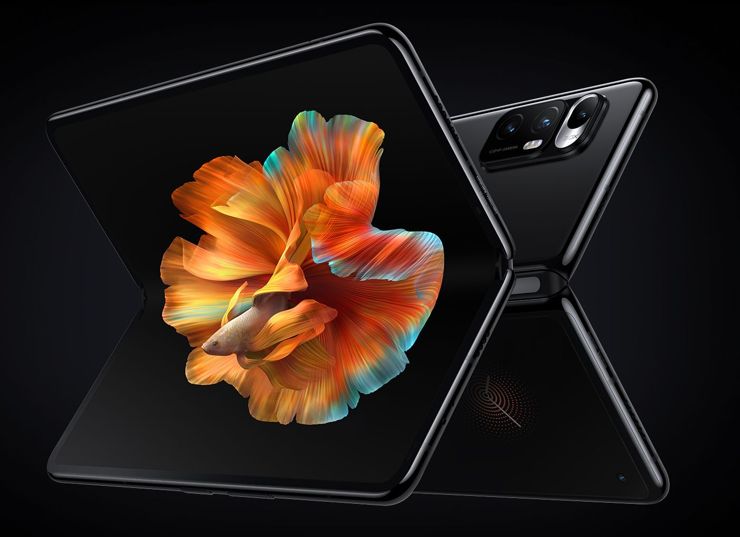 photo: Xiaomi
Xiaomi today presented its first foldable smartphone: Xiaomi Mi Mix Fold. What does it look like?
As previously announced, Xiaomi Mi Mix Fold took the form of a book - like Samsung Galaxy Z Fold 2. Of course - it is not identical, but the construction principle and general assumptions of the structure are similar.
Of course, the most important thing here is the large, foldable display. It has a diagonal of 8.01 inches and a resolution of 2480x1860 pixels, a brightness of 600 nits and a billion colors palette. Image refresh was not mentioned, because it is standard - 60 Hz. The AMOLED matrix is compatible with HDR10+ and supported by Dolby Vision. Xiaomi has given up placing a selfie camera on this side of the phone - but it has equipped the device with four stereo speakers, signed by Harman/Kardon.

Xiaomi Mi Mix Fold obviously has an interface that allows you to use the potential of the big screen. The image can therefore be divided between applications and data transfer between them, there is also a tablet mode. The hinge of the phone has been tested for durability - it is to withstand a million cycles of use. The external display, in turn, has a diagonal of 6.52 inches and a resolution of 2520x840 pixels. This, in turn, already has an image refresh rate of 90 Hz and a brightness of 700 nits and a hole for a 20-megapixel selfie camera. The heart of the phone was, of course, Snapdragon 888, with a dedicated cooling system and LPDDR5 and UFS 3.1 memories. The power supply is provided by a 5020 mAh battery with a fast 67 W charge. It uses the Xiaomi patented new parallel dual battery architecture, which consists of two batteries with a capacity of 2,460mAh and 2,560mAh. The special parallel structure allows for a high current efficiency of 10 A, providing a strong impulse to power the smartphone's four speakers.

In the photographic part, we find the main camera with a 108 megapixel matrix, as well as a 13 Mpx wide-angle module with a field of view of 123 degrees. It is complemented by an 8-megapixel camera with a telephoto lens. It is equipped with an innovative, liquid lens that allows you to take both large zooms and macro photos. A liquid lens uses the principle of the human eye to create a lens-like structure from a transparent film containing a fluid, different from traditional optical lenses. The radius of curvature of the spherical surface can be precisely varied thanks to a special motor based on Xiaomi's self-developed technology, which allows for a 3x optical zoom, up to 30x telephoto zoom and ensures a minimum focusing distance of 3 cm. One lens practically covers the functions of two lenses. The camera uses the proprietary Surge C1 image processing processor.

Xiaomi Mi Mix Fold is available at a price of 9,999 yuan, or $ 1,522. That's how much the 12+256 GB version costs. For the 12+512 GB model you have to pay 10,999 yuan, or $ 1,674. A special version will also be offered, with a ceramic housing and 16+512 GB memories - for 12,999 yuan, or $ 1,979.
Source GSMchoice.com