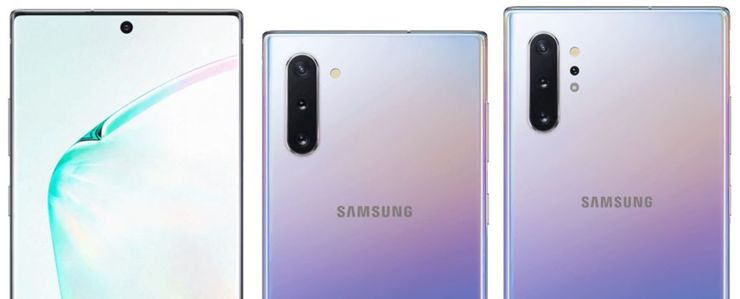 photo: @ishanagarwal24
It just went really fast. The leakster first published the renders of Samsung Galaxy Note10 and later Note10+. And right after them, graphics from the producer's resources appeared. The 'Notepad' look therefore no longer holds any secrets.
Previous generations weren't revolutionary in terms of styling. Yes, there were some changes, but the overall outline remained similar. Now this will change - in the stylization we have almost a revolution. The first four renders come from an Indian leakster who doesn't claim to be official, while the others - straight from Berlin, from Roland Quandt from Winfuture. And these come from official marketing as the author assures.
The previous leaks about the extremely narrow display bezel and a hole-punch camera located at the top center of the display are confirmed. The opening is quite small, "by eye" it can be about 4 mm in diameter. Big changes can also be seen at the back. While the beautiful symmetry has come to the front, we lose it at the back with the transfer of the camera frame into the corner. The camera in the base version has three lenses, while in the Plus version you can see two more sensors next to it. One - it's probably a ToF sensor, and the other - it can be a laser rangefinder or a small sensor, eg for a macro.
The S-pen also got changes - it lost a shiny tag at the end and now has a uniform colour on the whole length. In my humble opinion, it lost its elegance. Unfortunately, we can't see the bottom or the top of the phone, so we can't verify the rumours of minijack lack - though it seems to me that we should see the outline of the top and bottom edges carefully and not see it. Therefore, concerns about the lack of a socket remain justified, just like the lack of a microSD card slot. In addition, as we already know, each of the models, both 6.3 and 6.7-inch, will also appear in the 5G version. The launch - August 7.
UPDATE:
Shortly after the appearance of the above-mentioned graphics, there were still more photos showing the dimensions of Samsung Galaxy Note10+ and its top and bottom walls. Unfortunately, now we can see that there is no minijack, but at the top of the phone we can see an additional "eyelet" - so there is still a chance of an infrared transmitter. And the dimensions of the phone are 77.6x162.5 mm.
Winfuture, Slashleaks and @ishanagarwal24: 1, 2