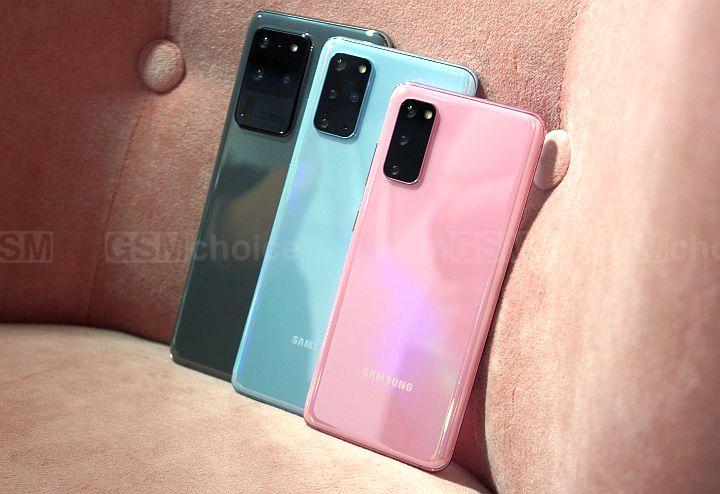 photo: Adam Łukowski/GSMchoice.com
Today Samsung has presented new smartphones from the Galaxy S family. This time we have almost revolutionary changes - the "jump" in numbering, changed stylization and new technical solutions. All this in three new models: Galaxy S20, Galaxy S20+ and Samsung Galaxy S20 Ultra.
New style
This year's models, according to the current formula, should be marked S11. However, we have 2020 and the tenth anniversary of the series, so it was decided to give this year models number 20 to highlight the beginning of the new decade for Galaxy S. The place of the compact model from last year was taken by the Galaxy S20, the Galaxy S20+ model became medium, and the Samsung Galaxy S20 Ultra model is crowned in the new family.
This year's models are distinguished by a coherent, though controversial stylization. The housings are based on metal frames, ensuring high rigidity and solidity of construction, while the backs of the phones are covered with glass panes with clearly accented dark camera frames. And they arouse mixed feelings in me. A lot of empty space is left on them, but for consolation, echoes of this stylization can also be found in other Samsung models this year - so you can talk about a unique, corporate style. The phones will be available in new, attractive colours, among which it is worth distinguishing exceptionally feminine pink and eye-pleasing blue.
Smooth picture and high security
All Samsung Galaxy S20 models have Infinity O displays, with a minimalist, discreet opening for the front camera and a Dynamic AMOLED WQHD+ matrix with HDR10+. Thanks to the 120 Hz refresh rate - twice as fast as before - the image is actually very smooth. However, there is a small catch - fast refresh works only after switching the screen to Full HD+ or HD+ resolution. In the new Galaxy S you will find decent, stereo speakers with Dolby Atmos chip, tuned by specialists from AKG. The advantage of the new models is also the high class of waterproof and dustproof, IP68. The Samsung Galaxy S20 series is equipped with a face recognition system and ultrasonic fingerprint readers mounted below the screen surface. It is also worth mentioning that the security of data collected in telephones is always protected by the KNOX function.
Top-shelf performance
Galaxy S20 smartphones offered in Europe are equipped with proprietary Exynos 990 processors, made using a new technological process - lithography 7 nm (there is also a variant with Snapdragon). All models have 8 or 12 GB of RAM, which means that users will not complain about the smoothness of operation. There should also be enough memory for files, because smartphones are equipped with 128 GB of internal memory and a microSD memory card slot supporting media with a capacity of up to 1 TB. Samsung Galaxy S10+ and S10 Ultra models will also be offered in a version with 512 GB memory, and in addition, the Galaxy S20 Ultra will also be able to have 16 GB of RAM. The role of the system is played by the latest Android 10 with the company's convenient Samsung One UI interface in a new, second installment. Each of the Galaxy S20 has a quick battery charging system, as well as the ability to wirelessly charge and wirelessly share energy with other devices.
Samsung Galaxy S20 Ultra
Samsung Galaxy S20 Ultra is the top model of the new series. It has a large 6.9-inch display, and supplies power from a 5000 mAh battery, equipped with a 45 W fast charging system. Samsunga Galaxy S20 Ultra is equipped with an advanced camera, with a main matrix of 108 megapixels, supported by an optical stabilization system and a lens with f/1.8 aperture and a field of view of 79 degrees. The 108-megapixel matrix in the S20 Ultra can work in NonaCell mode. It involves joining nine adjacent pixels of 0.8 micrometer into one large 2.4 micrometer ultrapixel. This matrix mode of operation allows large super-pixels to capture more light and get well-lit 12-megapixel photos even in harsh conditions. Another camera has a 12 megapixel matrix and takes pictures with a wide-angle lens with a 120-degree field of view and f/2.2 aperture.
The Ultra photo set also includes a ToF sensor that provides beautiful portrait photos, but the nail of the program is a 48-megapixel camera with a telephoto lens with f/3.6 aperture. This lens was placed flat in the housing, using a structure similar to a periscope. Thanks to this, it allows you to get close-ups without losing image quality. In combination with a 108 megapixel camera, you can achieve up to 100x zoom, but unfortunately digital. The quality of these photos - although supported by artificial intelligence - does not differ from typical photos taken with digital zoom. The difference, however, is the size of this close-up... In practice, however, the best photos are taken with a 10-, or 30-fold zoom.
This is not the end of the Samsunga Galaxy S20 Ultra camera's capabilities. It also has a Bright Night system that allows you to take successful photos after dark, as well as record Hyper-Lapse night movies. In addition, the camera allows you to record movies in an extremely high resolution 8K and easily capture individual video frames and save them in the form of 32-megapixel photos. Of course, the option of taking photos while recording movies has been retained, the Single Take function has also been added, which allows you to take a photo with three lenses - basic, wide-angle and telephoto, with Live Focus blur and animation. Samsunga Galaxy S20 Ultra also has the best selfie camera in the S20 family - high resolution 40 megapixels and lens with f/2.2 aperture and 80 degree field of view.
Samsung Galaxy S20 and S20+
Samsung Galaxy S20+ is a medium-sized model, equipped with a 6.7-inch display and a 4500 mAh battery. The role of the "compact" variant was taken over by the Samsung Galaxy S20 model, with a 6.2-inch screen and a 4000 mAh battery. The batteries of both models can be charged wirelessly, or from fast 25W power supplies. Both smaller Galaxy S models are equipped with 10-megapixel selfie cameras with an aperture and field of view identical to the model S20 Ultra.
On the back, Samsung Galaxy S20 and Galaxy S20+ have quite similar cameras. The basic matrix has 12 megapixels, optical image stabilization and works with a lens with f/1.8 aperture, while another, also 12-megapixel, provides wide-angle photos through a lens with f/2.2 aperture and a field of view of 120 degrees. The third matrix, 64-megapixel, works with a telephoto lens with f/2.0 aperture. Importantly, also here an optical image stabilization system was used to prevent taking a blurred, blurry photo. In addition, the Galaxy S20+ model also has a Time Of Flight sensor, supporting blur the background in portrait shots.
Prices, availability
The prices are:
Samsung Galaxy S20 8+128 GB - 899 euro
Samsung Galaxy S20 12+128 GB -
Samsung Galaxy S20+ 8+128 GB - 999 euro
Samsung Galaxy S20+ 12+128 GB -
Samsung Galaxy S20 Ultra 12+128 GB -
Samsung Galaxy S20 Ultra 16+512 GB -
Samsung Galaxy S20 5G 8+128 GB - 999 euro
Samsung Galaxy S20 5G 12+128 GB -
Samsung Galaxy S20+ 5G 8+128 GB -
Samsung Galaxy S20+ 5G 12+128 GB - 1099 euro
Samsung Galaxy S20 Ultra 5G 12+128 GB - 1349 euro
Samsung Galaxy S20 Ultra 5G 16+512 GB - 1549 euro
And one more thing...
Along with the Galaxy S20 series, the new Galaxy Buds+ wireless headphones will also debut. In appearance, they have not changed significantly compared to last year's model - but inside it is a completely new model, with a better battery, improved microphones and sound systems. The headphones will be a free pre-sale added to the S20 series.
Source GSMchoice.com