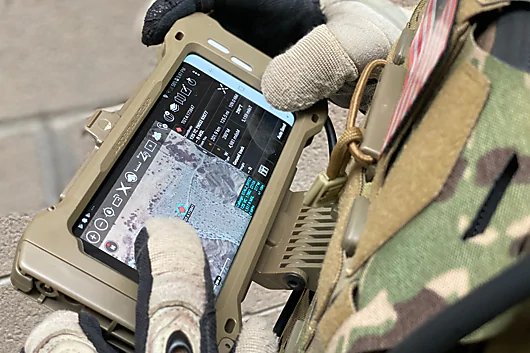 photo: Samsung
One can build a really super durable smartphone. But one can also offer a cover that gives protection. However, that would be too easy. Samsung Galaxy S20 Tactical Edition is not just a phone in a strong cover.
Although Samsung Galaxy S20 Tactical Edition looks like a normal flagship clothed in a strong, protective cover, the case is not so simple. Yes, the phone is placed in a special, armored housing, but it offers more than it seems. The manufacturer declares that the device was created after consultation with the US Ministry of Defense and is tailored to the needs of the army.
Samsung Galaxy S20 Tactical Edition has been equipped with an additional DualDAR encryption system and meets the requirements of the American security agency. It allows connection to internal military communication systems, and - allows you to turn off all your transmitters - to make you "invisible". It has special interface options that allow the phone to be used in combat conditions (e.g. unlocking in landscape mode). The phone allows you to install all applications used by the US Army, also supports DeX mode.
And besides, Samsung Galaxy S20 Tactical Edition offers everything that the base Galaxy S20 in the top version, with 12 GB of RAM. Questions about availability and price are probably unnecessary. The slogan "US Army" probably explains everything ...
Samsung Galaxy S20 Tactical Edition - Technical specifications
Display
Color / Dynamic AMOLED
16M colors
1440 x 3200 px (6.20") 566 ppi
∼88.5% screen-to-body ratio
Standard battery
Li-Ion 4000 mAh
Quick battery charging
Quick Charge 2.0
Wireless battery charging
Qi
Operating system
Android 10
Processor
Qualcomm Snapdragon 865
Processor clock: 2.80 GHz
Number of cores: 8


GPU: Adreno 650

RAM memory
12 GB
Internal memory
128 GB
DualSIM

Qualcomm Snapdragon 865
Processor clock: 2.80 GHz
Number of cores: 8


GPU: Adreno 650

SIM card standard
nanoSIM

First camera

Camera location
Back
Photo matrix
12 Mpx
Optical zoom

Digital zoom
30x
Flash

LED
Additional
AF, OIS, f/1.8

Second camera

Camera location
Back
Photo matrix
12 Mpx
Optical zoom

Digital zoom

Flash

LED
Additional
FF, f/2.2

Third camera

Camera location
Back
Photo matrix
64 Mpx
Optical zoom

Digital zoom
30x
Flash

LED
Additional
AF, OIS, f/2.0

Fourth camera

Camera location
Front
Photo matrix
10 Mpx
Optical zoom

Digital zoom

Flash

Additional
AF, f/2.2
Source Samsung