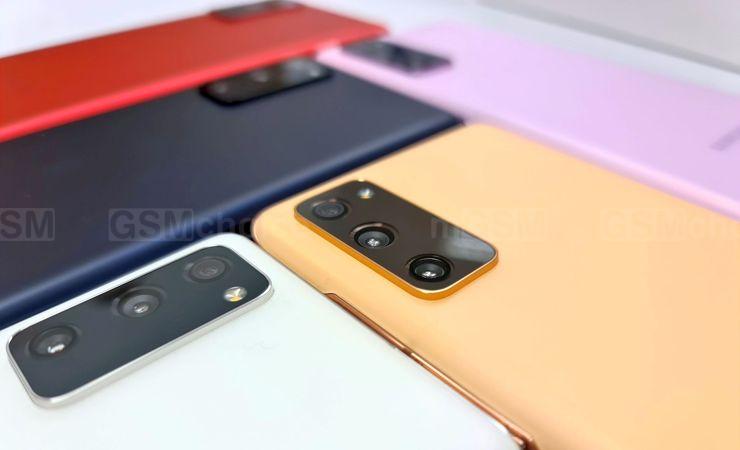 photo: Adam Łukowski/GSMchoice.com
Samsung Galaxy S20 FE is already in Polish stores, and I am in a hurry to share with you my first impressions of the meeting with the new model.
Samsung Galaxy S20 FE is the cheapest model from the flagship Galaxy S series, but the manufacturer does not want us to think of it as a Lite version. It is rather a tribute to slightly less affluent fans, a phone that is more affordable, but still offers flagship possibilities.
Housing, style
I admit that I like Samsung Galaxy S20 FE a little less than the effective copper-brown Galaxy Note 20 Ultra - but I can't deny its beauty. The phone is really nice. The housing rests on a metal frame and the back is made of polycarbonate. You can argue with me that the flagship should have glass backs - but I will stick hard to the opinion that the plastic that looks like this looks great and is practical - it will not break. What's more, thanks to its matte finish, it does not collect handprints, and the entire casing is waterproof, so we have additional practicality. In addition, we have a wide range of colours to choose from. My favorite is red.
Display
The Galaxy S20 FE screen is flat - after all, not everyone likes rounded edges. The matrix is made in Super AMOLED technology, has a Full HD+ resolution and a refresh rate of 120 Hz. We can turn it off if we want to save battery, but there is no automatic refresh rate control, as in the Note series. The screen is protected by Gorilla Glass 3. In the upper part of the display we have a hole for a selfie camera...
Cameras
It's kind of funny, but Samsung Galaxy S20 FE has a better selfie camera than its flagship brothers. This is another proof that the equipment is aimed at a younger clientele. The camera has 32 megapixels - but unlike flagships, it does not have autofocus, and constant focus. All in all - it's a good idea, after all, we usually take a selfie from a rather constant distance - the length of our hands or a stick. The main rear camera has 12 megapixels, optical image stabilization and a lens with an f/1.8 aperture.
The next rear module also has 12 megapixels, but also a wide-angle lens with f/2.2 aperture and a field of view of 123 degrees. The last of the rear modules - 8-megapixel with optical stabilization - works with an f/2.4 telephoto lens giving a 3x lossless zoom (digital 30x, assisted by artificial intelligence AI). The camera can of course record 4K movies and offers additional features known from other Samsung models, such as "One shot", "Night mode", "Live focus" (blurring the background with additional effects, also during filming) or the ability to switch between lenses while recording.
Performance, connectivity, battery
Samsung Galaxy S20 FE offers flagship performance - we will find the same processors as in the most expensive flagships, as well as fast LPDDR5 and UFS 3 memories. Although the 6+128 GB memory variant is offered in pre-sale, we know that a more attractive one will appear soon, with 8+256 GB memories. The smartphone is offered in Poland in the DualSIM variant, but unfortunately implemented in a hybrid card slot. We can choose from two variants - supporting 4G networks, equipped with an Exynos 990 or 5G processor, with a Snapdragon 865 processor. It is therefore a rare opportunity in our region to get the flagship Samsung on Snapdragon. It's funny, because it gives me a strong belief that the 5G model will enjoy higher success, but not because of the support for the next generation of networks...
Samsung Galaxy S20 FE is fully equipped with communication interfaces, including Wi-Fi 6 and NFC. It also has good-sounding stereo speakers, but unfortunately there is no minijack, which until recently was the hallmark of Samsung smartphones. There is no shortage of energy... The phone received a battery with a capacity of 4500 mAh, with 25 W fast charging, and 15 W wireless charging and reverse charging. So we are dealing with one of the largest batteries in Samsung's flagships (only Galaxy S20 Ultra has bigger) and hopes for the longest working time among the models mentioned. It is a pity that the charger in the set is not more powerful - and we will get a standard 15W. Well, I understand - the price...
Is it worth buying?
Samsung Galaxy S20 FE can be purchased in four versions. Prices - depending on the selected 4G or 5G variant, they are respectively: PLN 2,899 and PLN 3399 for the version with 6+128 GB memory or PLN 3249 and PLN 3699 for the 8+256 GB variant. Which one would I choose? Personally and subjectively, I would buy the most expensive combination (i.e. 8+256 GB 5G) in red.
If you prefer more subdued colours, I recommend white or navy blue, which is almost black, but you can see fingerprints on it. I suspect that the 4G version with 8+256 GB will be the least likely to sell - and personally, I recommend this option the least. Do I recommend this model at all? Definitely - and I'm not surprised Samsung is introducing it just now. If it appeared with the rest of the Galaxy S20 series, it would have gotten all the attention on itself. After all, the price still matters...
Samsung Galaxy S20 FE 5G - Technical specifications
Display
Color / Super AMOLED
16M colors
1080 x 2400 px (6.50") 405 ppi
∼85.7% screen-to-body ratio
Standard battery
Li-Ion 4500 mAh
Quick battery charging
Fast Charging 2.0
Wireless battery charging
Qi
Operating system
Android 10
Processor
Qualcomm Snapdragon 865
Processor clock: 2.84 GHz
Number of cores: 8


GPU: Adreno 650

RAM memory
6 GB, 8 GB
Internal memory
128 GB, 256 GB
DualSIM

Qualcomm Snapdragon 865
Processor clock: 2.84 GHz
Number of cores: 8


GPU: Adreno 650

SIM card standard
nanoSIM

First camera

Camera location
Back
Photo matrix
12 Mpx
Optical zoom

Digital zoom
30x
Flash

LED
Additional
AF, OIS, f/1.8

Second camera

Camera location
Back
Photo matrix
12 Mpx
Optical zoom

Digital zoom

Flash

LED
Additional
FF, f/2.2

Third camera

Camera location
Back
Photo matrix
8 Mpx
Optical zoom

Digital zoom

Flash

LED
Additional
AF, OIS, f/2.4

Fourth camera

Camera location
Front
Photo matrix
32 Mpx
Optical zoom

Digital zoom

Flash

Additional
FF, f/2.2
Samsung Galaxy S20 FE - Technical specifications
Display
Color / Super AMOLED
16M colors
1080 x 2400 px (6.50") 405 ppi
∼85.7% screen-to-body ratio
Standard battery
Li-Ion 4500 mAh
Quick battery charging
Fast Charging 2.0
Wireless battery charging
WPC
Operating system
Android 10
Processor
Samsung Exynos 990
Processor clock: 2.73 GHz
Number of cores: 8


GPU: ARM Mali-G77 MP11

RAM memory
6 GB, 8 GB
Internal memory
128 GB, 256 GB
DualSIM

Samsung Exynos 990
Processor clock: 2.73 GHz
Number of cores: 8


GPU: ARM Mali-G77 MP11

SIM card standard
nanoSIM, nanoSIM

First camera

Camera location
Back
Photo matrix
12 Mpx
Optical zoom

Digital zoom
30x
Flash

LED
Additional
AF, OIS, f/1.8

Second camera

Camera location
Back
Photo matrix
12 Mpx
Optical zoom

Digital zoom

Flash

LED
Additional
FF, f/2.2

Third camera

Camera location
Back
Photo matrix
8 Mpx
Optical zoom

Digital zoom

Flash

LED
Additional
AF, OIS, f/2.4

Fourth camera

Camera location
Front
Photo matrix
32 Mpx
Optical zoom

Digital zoom

Flash

Additional
AF, f/2.2
Source GSMchoice.com