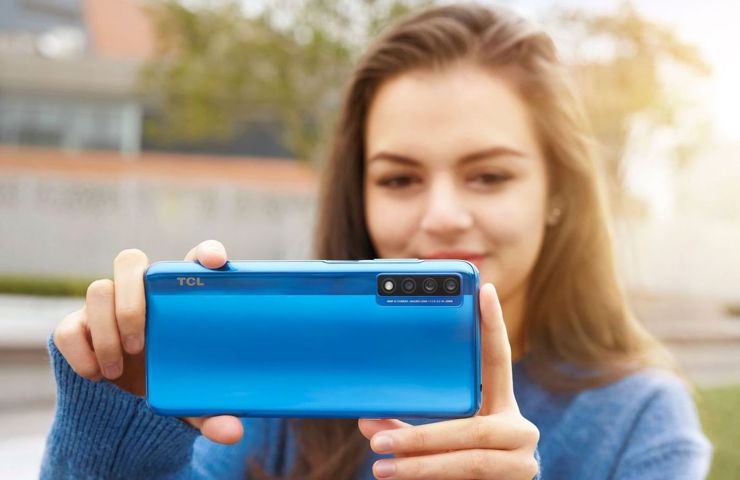 photo: TCL
TCL presented two new smartphones at CES 2021 - TCL 20 5G and TCL 20 SE, as well as two tablets and new accessories.
TCL 20 5G
TCL 20 5G is the first smartphone in the new series. TCL models have a distinctive look in favour of simpler, slightly more typical styling. Nevertheless, the model that comes in two colours may be appealing. It is equipped with a 6.67-inch screen with Full HD+ resolution and a Snapdragon 690 processor, supported by 6 GB of LPDDR4X memory. In addition, the TCL 20 5G has a microSD card slot and 128 or 256 GB of internal UFS 2.1 memory. The phone is powered by a 4500 mAh battery with a fast 18 W charge. The photographic package consists of an 8-megapixel selfie camera (f/2.0) and a rear camera with 48, 8 and 2 Mpx matrices and f/1.8, f/2.2 and f/2.4 apertures. Additional cameras - 118 degrees wide-angle and background blurring. The price of this model will be 299 euro.
TCL 20 SE
TCL 20 SE is a model from a slightly lower price range. It has a screen with a diagonal of 6.82 inches, but with HD+ resolution, with a droplet notch instead of a hole, as in the model described above. This smartphone is based on the Snapdragon 460 system, supported by 4 GB of RAM and 64 GB of memory for eMCP files. TCL 20 SE is powered by a 5000 mAh battery, which charges with 18 W. The front camera is - invariably - 8-megapixel, while the rear camera has a main matrix of 16 Mpx and f/1.8 aperture. It is complemented by two 2-megapixel cameras for macro and background effects, as well as a 5-megapixel wide-angle camera with a field of view of 115 degrees and an f/2.2 aperture. The phone will be offered for 149 euro.
TCL TAB 10s
TCL will also offer a new tablet TAB 10s, equipped with a 10.1-inch Full HD+ screen and MT8768 processor. The tablet will be offered in two memory options - 3+32 or 4+64 GB, in both cases with the possibility of using a microSD card. The device has an LTE modem, it also allows you to use Wi-Fi and Bluetoth 5.0. The tablet is powered by an 8000 mAh battery with an 18-watt charging system. The tablet also has two cameras - 8 and 5 Mpx. The prices will be 199 or 249 euro.
TCL NXTpaper
TCL NXTpaper is another tablet - but quite unconventional. It has a display that does not emit its own light and is extremely eye-friendly. The screen is colourful, has a Full HD+ resolution and a 8.88 inch diagonal. The tablet works on the basis of the MT8768E processor and 4+64 GB memory. The device has a 5300 mAh battery, as well as two cameras, 8 and 5 Mpx.
Other TCL novelties
TCL also unveiled the Movetrack device that allows you to track the position of your dog or luggage, as well as the new Moveaudio S600 headphones. Multimedia glasses, a phone with a retractable screen and three more smartphones were also announced. These devices, however, will be presented later in the year.
Source TCL