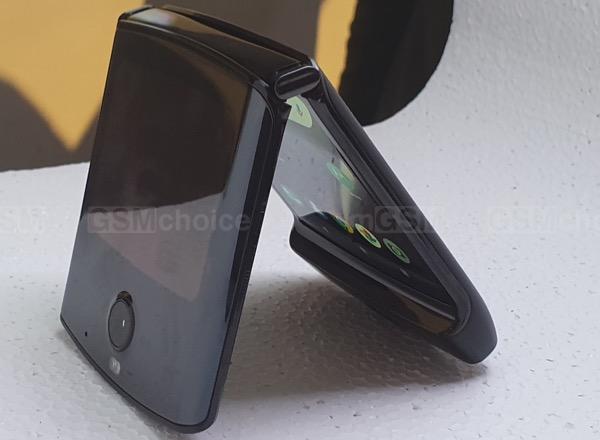 photo: Adam Łukowski/GSMchoice.com
Those who regretted that Motorola Razr 2019 was presented in the US can breathe a sigh of relief. This impressive smartphone will also go on sale in Europe.
Motorola Razr 2019 will be available on the Old Continent from December, at a price of 1,599 euros.
Is it worth? Motorola Razr 2019 is the modern incarnation of the iconic, great-selling model from years ago - i.e. V3. Interestingly, the new model with its predecessor combines more than a similar look.
The old RAZR looked downright deadly, but it wasn't the best phone of its time. It didn't have to be, because it was chosen not because of the parameters, but because of the style. This is also the case this time, because we are dealing with a more powerful medium, equipped with a Snapdragon 710 processor, 6 GB of RAM and 128 GB of internal memory. There are modern accessories, such as LTE, Bluetooth 5.0, dual band Wi-Fi and NFC. On the outside of the flap we have a small, OLED screen with a diameter of 2.7 inches and a resolution of 800x600 pixels. It allows much more than in the old model. That one was tiny and only showed notifications, and the current one allows you to freely operate Android. And if we want a bigger screen - we open the flap and it starts...
A nice, solid (definitely more than before) hinge opens the housing, and we see a large screen with a diagonal of 6.2 inches, a 21: 9 aspect ratio and a resolution of 876x2142 pixels. Interestingly, in the place where it folds, you cannot see the characteristic bend... It is a pity that there is no longer a beautiful metal keyboard - but the touch screen will be much better suited for navigation on Android. Under the screen, as in the old "Razr" we have a protruding "beard", and on it a sign of our time - a fingerprint reader.
At the top of the screen there is a small notch, in which - apart from the speaker - a fairly modest, 5-megapixel camera with a f/2.0 selfie lens was mounted. Probably it was about the fact that the module had to be very small to fit in a slim flap... On the other side we will find a better, 16-megapixel camera, with an f/1.7 lens and a night mode. This camera also does not make a great impression, but remember that the nobody also chose the predecessor because of the quality of the photos. Unfortunately, the impressive housing did not allow to fit inside a too large battery, so we have a capacity of 2510 mAh - but fortunately there is a quick charge of 15 W. Once in this respect, however, it was not better. In addition to the large battery, the housing also lacked space for a minijack - and so the story has come full circle. We used to have miniUSB headphones for RAZR, and now we have USB-C. At the end of the story about the new Motorola Razr, let me remind you its dimensions: the assembled phone has dimensions 72x94x14 mm, and when opened - 72x172x6,9 mm. The whole weighs 205 g, and the interior is protected by a moisture-proof nanocoating.
Technical data of Motorola RAZR 2019

Processor
Qualcomm Snapdragon 710
Internal display
Flexible, pOLED 6,2", 876x2142 px
External display
2,7", gOLED 600x800 px
Graphics
Adreno 616
RAM memory
6 GB
Flash memory
128 GB
Battery
2510 mAh
Cameras:
5 Mpx f/2.0 for selfie, 16 Mpx f/1.7 main one
Source GSMchoice.com