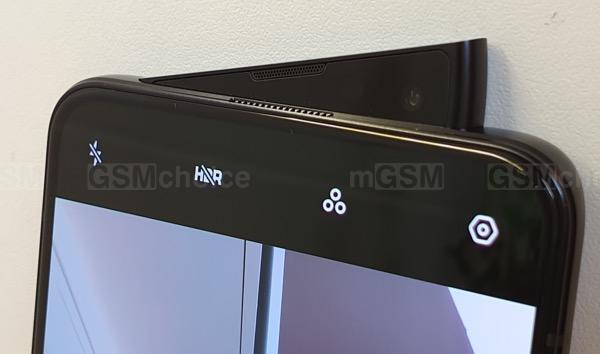 photo: Adam Łukowski/GSMchoice.com
The European launch of smartphones from the Oppo Reno 2 family took place in London today. The European distribution will include two models, Oppo Reno 2 and its cheaper brother Oppo Reno 2Z.
Both smartphones have several common features. Among them you can name a characteristic stylization, with a retractable front camera, as well as a strip running along the back. It is worth emphasizing that the rear camera lenses do not protrude at all beyond the outline of the housing, but are protected by a hard O-Dot support, which is also a distinctive feature of both designs. The backs of the housings are covered with Gorilla Glass 5, and the fronts - GG6. In both models we will also find batteries with a capacity of 4000 mAh with fast charging technology VOOC 3.0, charging the battery in 85 minutes. The Reno 2 series uses the proprietary ColorOS 6.1 interface, with support for gestures, screen themes or Intelligent Assistant - a special menu that suggests the most important shortcuts. The phones also have pre-installed system maintenance applications as well as a set of the most-needed utility applications, including the Smart Video Editor.
The main model in the family is Oppo Reno 2, which was equipped with a 6.5-inch AMOLED screen with a resolution of 2400x1080 pixels, with an integrated fingerprint reader and a mode of eye protection against harmful blue light. The 16-megapixel selfie camera (supported by LED) is hidden in a characteristic "fin", sliding out of the upper wall of the housing. The mechanism has a guaranteed durability of 200,000 cycles, as well as a system of automatic hiding in the event of the phone falling, and the camera itself offers an advanced mode of beautifying using artificial intelligence.
Speaking of the camera, that's how we can find a neat set under the leadership of a 48-megapixel IMX586 matrix with an f/1.7 lens and an optical stabilization. The next module is 8 megapixels and a wide-angle lens with a 116-degree field of view (with autofocus!), Followed by a telephoto lens f/2.4 and a 13 Mpx matrix. This module provides 2x lossless zoom, as well as 5x hybrid zoom, which uses all three main lenses. Image merging technology ensures a smooth zoom transition. The last, 2-megapixel matrix deals with portraits. The cameras also have manual and night mode, while when recording video (up to 4K) you can use ultrastabilization as well as microphone zoom or surround sound.
The heart of the phone is the 8-core Snapdragon 730G juxtaposed with 8+256 GB memory. The internal memory can be expanded with a card in a hybrid slot. In addition, a special game mode has been introduced for players in the menu, as well as Hyper Boost 2.0, Frame Boost 2.0 and Touch Boost 2.0 technologies that improve screen performance and performance during gameplay. The minijack or NFC output has not been forgotten, there is also the Dolby Atmos audio system. The smartphone is available in black or blue, and its price is 499 euro.
The second model, Oppo Reno 2Z, is a slightly trimmed proposal, but also cheaper, but still having some features in common with the more expensive model. In Reno 2Z we can still count on a 6.5-inch AMOLED screen with a built-in fingerprint reader, but surrounded by a slightly wider frame and having a slightly lower resolution - 2340x1080 pixels. The screen-to-body ratio here is 91.1%, while in Reno 2 it is 2% higher. RAM is still 8 GB, but the internal memory has been reduced to (still decent!) 128 GB.
This model uses a MediaTek Helio P90 processor, and the front camera is already hidden in a slightly more conventional way. The rear camera was also slightly modified: it lost the stabilization of the main matrix, and the camera with a telephoto lens gave way to the second 2 Mpx matrix. It, like the fourth matrix, takes care of portraits - but saves the image in colour. This model is available in slightly more classic colours - in black or white. The specification is slightly reduced compared to the base model - so the price must be correspondingly lower - and amounts to 369 euro.
Source GSMchoice.com