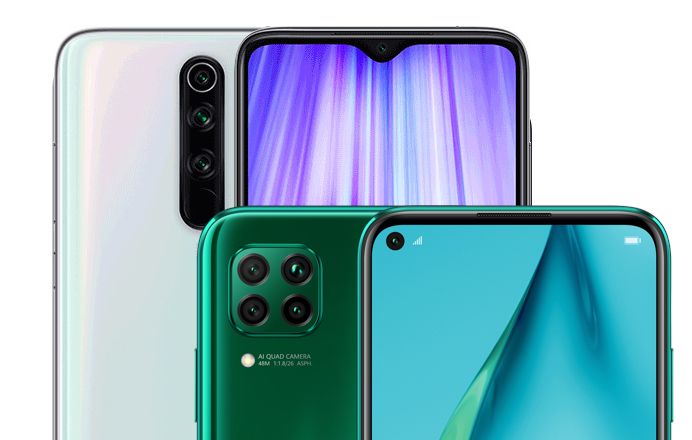 photo: Huawei and Xiaomi
Redmi Note 8 Pro and Huawei P40 Lite. Two inexpensive smartphones, with decent cameras and large batteries. Both from China, costing about 230 euro... But which is better? We will try to suggest!
We will compare the most important aspects of both models, and finally look at the price list. I hope that our comparison will help you choose one of these two models.
Huawei P40 Lite is prettier
If I had to choose based solely on the beauty of the devices, I would choose Huawei (See what Huawei P40 Lite looks like). Its front, with a selfie camera placed in a discreet hole in the screen, looks more modern. Redmi has a slightly wider frame, and the screen is marred by a droplet notch. (See what Redmi Note 8 Pro looks like) You can get a bit harder on the look of the back - and the choice depends on whether you prefer a camera in a square frame, like a cooker, or maybe in a vertical, longitudinal frame in the middle. As for the size - Redmi is slightly longer and thicker (Compare the dimensions of Redmi Note 8 Pro and Huawei P40 Lite), but the width of both models is very similar. However, keep in mind that Redmi offers a slightly larger display...
Redmi Note 8 Pro has a larger screen
Redmi Note 8 Pro is slightly larger, than Huawei P40 Lite, but it also has a larger display: 6.53" vs 6.4". The displays differ slightly in proportions and resolution (1080 x 2340 px or 1080 x 2310 px), but in fact, the image quality is similar. In both cases we are talking about the Full HD+ matrix, made in IPS technology, and the pixel density is virtually indistinguishable (unless you have a strong magnifying glass). Redmi Note 8 Pro has 395 ppi, and Huawei P40 Lite - 398 ppi. So you can assume that the image will be sharp and clear on both models. Just pay attention to which selfie camera bothers you less...
Huawei P40 Lite has higher performance
Redmi focuses on the MediaTek processor, and Huawei offers its own production system, i.e. Kirin. MediaTek Helio G90T used in Redmi has two A76 and six A55 cores, and their clock speed reaches 2 GHz. In Huawei HiSilicon Kirin 810 we have an identical set of cores, but with a slightly higher clock speed, 2.27 GHz. Graphics systems are already different - Mali G76 800 MHz in Redmi and Mali-G52 820 MHz in Huawei. If judged on the basis of just parameters, the Huawei model could be slightly more efficient. However, the difference is not devastating and large enough to be clearly felt. Both models have 6 GB of RAM and 128 GB of data memory. I would like to point out, however, that the cheaper version of Note 8 Pro, which has only 64 GB, is closer to the Huawei model.
Watch out for memory cards!
It can be concluded that the data memory can be the same in both models (although we need to buy the more expensive Redmi variant), but the comparison of memory cards is to the disadvantage of Huawei. Why? While in Redmi we can use the typical and most popular (and therefore cheaper!) MicroSD card, Huawei relies on its own format, known as NM or Nano Memory or nanoSD. These cards are smaller and faster than microSD, but not very popular and expensive. If you have an urgent need, it's easier and cheaper to buy a Redmi card.
Classic finger readers
Both models have classic, and therefore quite reliable fingerprint readers. Their location in both compared models is really comfortable - but different. Huawei has it on the side, Redmi - on the back, next to the camera. I suggest you should go to the store, "try on", even on a telephone dummy, and choose the one you prefer. I prefer the reader on the side - but I note that this option is better for right-handed people! The reader, as in Redmi, is universal, but it's easier to get your finger dirty on the camera glass. If you don't like readers, in both models you will find a simple unlocking system using face recognition.
Huawei P40 Lite without Google services
Both models work on Android 10, but due to political turmoil, the Huawei model does not have access to Google services. The Chinese group offers its own Google substitute - HMS, in which you will find most of the popular applications available in the Google store. The problem may be with unique, rarely downloaded apps or games. If you use them, before buying P40 Lite check if they are in the Huawei store to avoid disappointment. You may also encounter problems with a bank service - but their applications are already starting to appear on HMS smartphones. There is a chance that larger banks will join soon, as will the option of paying via NFC. For now (May 2020) – it's working as a test. Of course, you can install the Google package without losing your phone warranty (it's important). There are many guides on the network, it is not difficult - but still: it is a nuisance, it will not solve the problem of NFC payments, and not every phone buyer will be able to do it.
In the case of Redmi, there are no such problems. You will get the phone with the Google package. In each of the models you will find a company interface. And just as the names EMUI and MIUI are similar, the general outlines and philosophy of operation of both interfaces are similar. They can be considered comfortable and friendly.
Redmi Note 8 Pro has a larger battery, Huawei P40 Lite charges faster
In Redmi Note 8 Pro we will find a larger battery (4500 mAh) than in Huawei P40 Lite (4200 mAh). Unfortunately, this has been paid for by the greater thickness and weight of the smartphone than Redmi. I think, however, that it is probably worth suffering, enjoying a slightly longer smartphone life. If charging more often isn't a challenge for you, it's better to choose Huawei. The P40 Lite model has a much faster charging system than Redmi.
Redmi Note 8 Pro has a better camera
Both smartphones have single cameras on the front and quadruple on the back. Apart from the main matrices, the rear cameras are similar. I am talking about a set comprising an 8 Mpx module with a wide-angle lens with a 120-degree field of view, supplemented by two 2 Mpx modules, for macro and background effects. It would be similar, but Redmi Note 8 Pro offers a slightly better aperture in a wide-angle camera, f/2.2 vs. f/2.4. In low light, the difference may already be noticeable. The main Redmi module is also stronger than in Huawei - 64 vs. 48 Mpx. Selfie camera - also slightly better in Redmi, 20 vs. 16 megapixels. This does not mean that Huawei P40 Lite will not take good photos... Simply Redmi Note 8 Pro offers a little more - although you have to pay extra for it.
Is it better to buy Redmi Note 8 Pro or Huawei P40 Lite?
If the presence of Google services does not matter to you, but you like fingerprint readers on the side of the housing and you value beautiful housings - choose Huawei P40 Lite. This model is also slightly smaller and lighter than the competitor - also financially. Huawei's offer also offers slightly higher performance, and at the rate of battery charging it simply crushes a competitor from the Redmi stable. In addition, Huawei, costing 230 EUR, has 2x more memory than the similar Redmi version (but about 10 EUR more expensive).
Still, if I had to choose, I would bet on Redmi. The problems associated with Google are eliminated, and we get a larger, though less elegant screen, a larger battery and noticeably better cameras (at least the most important ones). In Redmi Note 8 Pro, increasing the memory will be easier and cheaper, but we will have to accept the fact that we will wait a bit longer to fill the battery. We also have to accept a higher price than for Huawei P40 Lite. If we need 128 GB memory - we will have to spend 10 EUR higher than for Huawei. Still - in my opinion it is better to pay extra, because even a simple purchase of a memory card will make up for this difference. The rest - Google support will do the comfort. And left-handed users are reminded about the reader!
Useful links:
Specifications of Redmi Note 8 Pro and Huawei P40 Lite:
Redmi Note 8 Pro - Technical specifications
Display
Color / IPS TFT
16M colors
1080 x 2340 px (6.53") 395 ppi
∼84.9% screen-to-body ratio
Standard battery
Li-Po 4500 mAh
Quick battery charging
Quick Charge 4+
Wireless battery charging

Operating system
Android 9.0 Pie
Processor
MediaTek Helio G90T
Processor clock: 2.00 GHz
Number of cores: 8


GPU: ARM Mali-G76 3EEMC4 @800 MHz

RAM memory
6 GB, 8 GB
Internal memory
64 GB, 128 GB, 256 GB
DualSIM

dual standby
SIM cards standard
nanoSIM, nanoSIM
Hybrid DualSIM

First camera

Camera location
Back
Photo matrix
64 Mpx, Samsung S5KGW1
Optical zoom

Digital zoom

Flash

LED
Additional
AF, f/1.89

Second camera

Camera location
Back
Photo matrix
8 Mpx
Optical zoom

Digital zoom

Flash

LED
Additional
FF, f/2.2

Third camera

Camera location
Back
Photo matrix
2 Mpx
Optical zoom

Digital zoom

Flash

LED
Additional
AF

Fourth camera

Camera location
Back
Photo matrix
2 Mpx
Optical zoom

Digital zoom

Flash

LED
Additional
FF

Fifth camera

Camera location
Front
Photo matrix
20 Mpx, Samsung S5K3T1
Optical zoom

Digital zoom

Flash

Additional
FF
Huawei P40 Lite - Technical specifications
Display
Color / IPS TFT
16M colors
1080 x 2310 px (6.40") 398 ppi
∼83.5% screen-to-body ratio
Standard battery
Li-Po 4200 mAh
Quick battery charging
SuperCharge
Wireless battery charging

Operating system
Android 10
Processor
HiSilicon Kirin 810
Processor clock: 2.27 GHz
Number of cores: 8


GPU: ARM Mali-G52 @820 MHz

RAM memory
6 GB
Internal memory
128 GB
DualSIM

dual standby
SIM cards standard
nanoSIM, nanoSIM
Hybrid DualSIM
nanoSIM, NM card

First camera

Camera location
Back
Photo matrix
48 Mpx
Optical zoom

Digital zoom

Flash

LED
Additional
AF, f/1.8

Second camera

Camera location
Back
Photo matrix
8 Mpx
Optical zoom

Digital zoom

Flash

LED
Additional
FF, f/2.4

Third camera

Camera location
Back
Photo matrix
2 Mpx
Optical zoom

Digital zoom

Flash

LED
Additional
FF, f/2.4

Fourth camera

Camera location
Back
Photo matrix
2 Mpx
Optical zoom

Digital zoom

Flash

LED
Additional
FF, f/2.4

Fifth camera

Camera location
Front
Photo matrix
16 Mpx
Optical zoom

Digital zoom

Flash

Additional
FF, f/2.0
Source GSMchoice.com