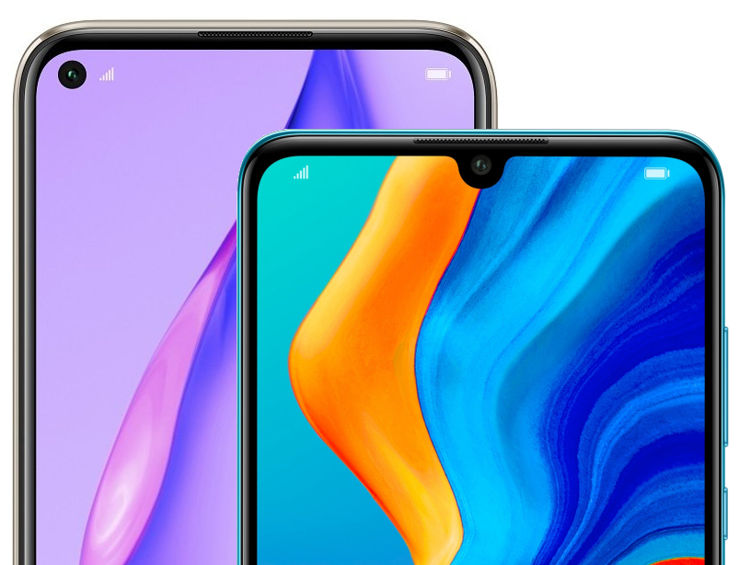 photo: Huawei
Huawei P30 Lite or Huawei P40 Lite? Which model will be a better choice - you'll find out from our comparison!
Huawei P30 Lite or Huawei P40 Lite? Predecessor or successor? It is better to choose a proven, older model - or rather a new one? Is it worth paying extra for the current model or is it better to save by buying a previous one? It is possible that many of you ask yourself this question, facing the choice of the "lite" version of the Huawei flagship. We will try to suggest the advantages and disadvantages of both models. We hope that the following statement will help you make the selection below.
Huawei P40 Lite looks more modern
Huawei P40 Lite looks much better and more modern. Huawei P30 Lite was fashionable - but over a year ago. Today, we will not consider a droplet notch or a plate reader on the back of the housing as fashionable. So - if the appearance of the phone is important to you – buy rather Huawei P40 Lite. With a hole in the screen, a reader on the side and a quad camera in a quite discreet frame - it will stay longer hip. But beware - there are also minuses! The newer model is slightly wider and thicker, and also definitely heavier. Why - you will find out in a moment, and for now see what the compared models look like.
Useful links:
Why is Huawei P40 Lite bigger and heavier?
Huawei P40 Lite has a larger screen
Let's start by comparing the size and weight of the phones. Huawei P30 Lite has dimensions 152.9 x 72.7 x 7.4 mm and weighs 159 g, while the dimensions of Huawei P40 Lite are 159.2 x 76.3 x 8.7 mm with a weight of 183 g. Why this difference? First of all, it results from the size of the displays. The P30 Lite screen has a 6.15-inch diameter and the P40 Lite is 0.25-inch larger. So - if you prefer large screens, the newer model will be a better option. Note, however, that both displays were made in IPS technology, and their resolution is almost identical - 1080 x 2312 or 2310 pixels. In a smaller model, the screen image - viewed closely - will therefore be slightly sharper. Under normal use, the difference will not be noticeable.
Huawei P40 Lite has a larger battery
We already know where the greater width of the P40 Lite model comes from. And where does the greater thickness and weight come from? To a large extent, a higher capacity battery is responsible. Here, unfortunately, Huawei P30 Lite falls much weaker than its newer relative. Not only does it have a smaller battery capacity (3340 mAh), it also charges it clearly more slowly, with a power of 18 W. In Huawei P40 Lite the battery has a capacity of 4200 mAh, and it also charges with 40 W - which is very fast. What's more, the smartphone can also charge other devices - it will do it with a power of 5 W. So - if the operating time and charging rate are important to you - take a newer model.
Huawei P40 Lite has a slightly higher performance
Both models use very similar processors. The differences between the Kirin 710 used in P30 Lite and the Kirin 810 with P40 Lite are not shocking enough to indicate the overwhelming dominance of the newer model. Oh, we just have a new generation of the same class layout, built on newer, slightly more efficient cores and graphics layout. In practice - you should not feel significant discomfort if you choose the older model. Especially if you are used to using microSD memory cards - i.e. proven, popular and cheap. Huawei P40 Lite also allows you to use memory cards, but a newer type, NM. They are smaller and faster than microSD, but unfortunately more expensive and still slightly more difficult to access. If the type of memory card does not matter to you - we focus on P40 Lite again. Both models offer 128 GB of internal memory - that is quite a lot for this price segment.
Huawei P40 Lite without Google
Huawei P40 Lite has - undeservedly - one serious lack. Due to Huawei's problems with the US administration, you won't find a Google service package on your smartphone. Of course - it is possible to install some of them after purchase. In addition, Huawei offers "replacement applications" as well as its own app store. There are more and more items in it, but you have to reckon with the fact that you won't find the application you are interested in, which you once downloaded from the Google store. However, this is quite an extreme case - it is worth checking what promotions the Chinese company offers in its own download room. It is possible that you can find something you have paid dearly for free. However, if you do not like too much "rummaging" in the phone's software and you do not want to slightly change your habits and what you are used to by Google - choose Huawei P30 Lite. There you will find a slightly older version of the system, but with Google.
Watch out for NFC and payments!
Believe me - you can live without Google. However, I have bad news if you are used to making NFC payments. This interface can be found in both models, but in P40 Lite not all banking applications will be available in the store and not all will allow you to pay by phone. It is changing quite quickly, the number of banking applications supported by P40 Lite is growing, but you have to take into account the fact that your bank's app will have to wait a bit. Therefore, if you decide on P40 Lite - check whether your bank has already agreed with the Chinese group and allows you to pay via NFC.
Classic finger readers
Both models have classic fingerprint readers. They are quite fast and reliable. In my opinion, Huawei P40 Lite has a reader in a much more convenient place, i.e. on the side of the housing. However, this is a matter of taste and habits. Draw!
Huawei P40 Lite has one more camera
Curiosity. Both smartphones have very similar cameras. In both cases we deal with a set of 48-megapixel main matrix with f/1.8 aperture and an 8-megapixel wide-angle camera. In both smartphones we will also find 2-megapixel background blurs. Huawei P40 Lite, however, still has an additional macro camera. Unfortunately, it has only 2 megapixels, so it does not create a stunning advantage over the older model. If your domain is selfies, the advantage of the newer model is melting - and quickly. The older P30 Lite has a 24 megapixel matrix on the front, and the newer - only 16...
Check what photos the P30 Lite takes and what P40 Lite:
Is it better to buy Huawei P30 Lite or Huawei P40 Lite?
Looking at the price lists we will find a paradox. The newer model is cheaper than the older one. Of course, we compare the prices of new copies in the main networks of electromarkets. Why is this happening? The producer, being aware of the fact that the lack of Google applications may be an inconvenience for many customers, decided to price P40 Lite so that it becomes a really tasty bite. And it is thanks to this that this model wins our comparison - although slightly.
In fact, the lack of access to Google - even despite the lower price - could determine the loss of the newer model. This did not happen, because Huawei P40 Lite beats older brother also in the field of styling or battery. It is also slightly more efficient, and also offers an additional macro camera. The older model makes up for it with slightly smaller dimensions, a slightly sharper display and a better selfie camera. If I were to advise, looking at prices and deciding to buy a new copy - I would definitely choose Huawei P40 Lite, but remembering about its "google" problem. However, if I had the opportunity to buy a P30 Lite for less than 200 EUR - I would not refuse to buy an older model.
useful links:
Huawei P30 Lite and Huawei P40 Lite reviews:
Specifications of Huawei P30 Lite and Huawei P40 Lite:
Huawei P30 Lite - Technical specifications
Display
Color / IPS TFT
16M colors
1080 x 2312 px (6.15") 422 ppi
∼84.2% screen-to-body ratio
Standard battery
Li-Po 3340 mAh
Quick battery charging
Quick Charge 3.0
Wireless battery charging

Operating system
Android 9.0 Pie
Processor
HiSilicon Kirin 710
Processor clock: 2.20 GHz
Number of cores: 8


GPU: ARM Mali G51

RAM memory
4 GB, 6 GB
Internal memory
128 GB
DualSIM

dual standby
SIM cards standard
nanoSIM, nanoSIM
Hybrid DualSIM

First camera

Camera location
Back
Photo matrix
48 Mpx, Sony IMX586
Optical zoom

Digital zoom
6x
Flash

LED
Additional
AF, EIS, f/1.8

Second camera

Camera location
Back
Photo matrix
8 Mpx
Optical zoom

Digital zoom

Flash

LED
Additional
FF, f/2.4

Third camera

Camera location
Back
Photo matrix
2 Mpx
Optical zoom

Digital zoom

Flash

LED
Additional
FF, f/2.4

Fourth camera

Camera location
Front
Photo matrix
24 Mpx
Optical zoom

Digital zoom

Flash

Additional
FF, EIS, f/2.0
Huawei P40 Lite - Technical specifications
Display
Color / IPS TFT
16M colors
1080 x 2310 px (6.40") 398 ppi
∼83.5% screen-to-body ratio
Standard battery
Li-Po 4200 mAh
Quick battery charging
SuperCharge
Wireless battery charging

Operating system
Android 10
Processor
HiSilicon Kirin 810
Processor clock: 2.27 GHz
Number of cores: 8


GPU: ARM Mali-G52 @820 MHz

RAM memory
6 GB
Internal memory
128 GB
DualSIM

dual standby
SIM cards standard
nanoSIM, nanoSIM
Hybrid DualSIM
nanoSIM, NM card

First camera

Camera location
Back
Photo matrix
48 Mpx
Optical zoom

Digital zoom

Flash

LED
Additional
AF, f/1.8

Second camera

Camera location
Back
Photo matrix
8 Mpx
Optical zoom

Digital zoom

Flash

LED
Additional
FF, f/2.4

Third camera

Camera location
Back
Photo matrix
2 Mpx
Optical zoom

Digital zoom

Flash

LED
Additional
FF, f/2.4

Fourth camera

Camera location
Back
Photo matrix
2 Mpx
Optical zoom

Digital zoom

Flash

LED
Additional
FF, f/2.4

Fifth camera

Camera location
Front
Photo matrix
16 Mpx
Optical zoom

Digital zoom

Flash

Additional
FF, f/2.0
Source GSMchoice.com