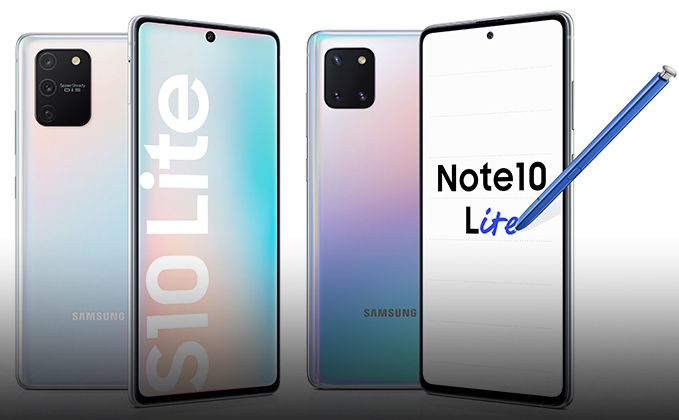 photo: Samsung
Samsung - a bit unexpectedly - today announced the launch of two new models - Galaxy S10 Lite and Galaxy Note 10 Lite. Both are "slimmer" and cheaper variants of flagships.
Samsung Galaxy S10 Lite
Samsung Galaxy S10 Lite is equipped with a 6.7-inch Super AMOLED Infinity-O screen - with a hole for a 32-megapixel selfie camera with f/2.2 aperture. On the back of the housing (covered with shiny plastic) we find a triple camera with a main 48 Mpx matrix equipped with Super Steady OIS optical stabilization and f/2.0 aperture. In addition to it, the smartphone has a 5-megapixel f/2.4 camera for macro and a 12-megapixel f/2.2 wide-angle camera with a field of view of 123 deg. The heart of Galaxy S10 Lite is Snapdragon 855, supported by 6 or 8 GB of RAM and 128 GB of memory inside. The 4500 mAh battery takes care of the power supply.
Samsung Galaxy Note10 Lite
Samsung Galaxy Note 10 Lite is somewhat similar to Galaxy S10 Lite described earlier. It also has a 6.7-inch Full HD+ Super AMOLED screen, a 4500 mAh battery and 6/8 GB of RAM and 128 GB of data memory - but the processor is already Exynos 9810. You can't forget about the iconic S-Pen stylus in Bluetooth LE and support of gestures performed in the air. You can, for example, control zoom and shutter in the camera or presentation or player. Galaxy Note 10 Lite also has a different camera - though it is a triple one. All three matrices are 12-megapixel, of course we have a set with f/2.2 wide-angle lens and tele f/2.4 with OIS. The main module also has OIS and f/1.7 aperture.
Colours, availability
Both models share a similar styling - consistent with other Samsung models planned for this year and at the same time different from the flagship prototypes. The characteristic features of the new models are narrow-frame screens with openings and integrated fingerprint readers, as well as black, slightly protruding rectangular camera frames in the upper left corners of the rear wall. Samsung Galaxy S10 Lite will be offered in Prism White, Prism Black and Prism Blue, while Samsung Galaxy Note 10 Lite - in Aura Glow, Aura Black and Aura Red. Prices have not been determined yet, but we may get to know them during CES.
Samsung Galaxy S10 Lite - Technical specifications
Display
Color / Super AMOLED
16M colors
1080 x 2400 px (6.70") 393 ppi
∼88.2% screen-to-body ratio
Standard battery
Li-Ion 4500 mAh
Quick battery charging

Wireless battery charging

Operating system
Android 10
Processor
Qualcomm Snapdragon 855
Processor clock: 2.80 GHz
Number of cores: 8


GPU: Adreno 640

RAM memory
6 GB, 8 GB
Internal memory
128 GB
DualSIM

Qualcomm Snapdragon 855
Processor clock: 2.80 GHz
Number of cores: 8


GPU: Adreno 640

First camera

Camera location
Back
Photo matrix
48 Mpx
Optical zoom

Digital zoom
8x
Flash

LED
Additional
AF, OIS, f/2.0

Second camera

Camera location
Back
Photo matrix
12 Mpx
Optical zoom

Digital zoom

Flash

LED
Additional
FF, f/2.2

Third camera

Camera location
Back
Photo matrix
5 Mpx
Optical zoom

Digital zoom

Flash

LED
Additional
FF, f/2.4

Fourth camera

Camera location
Front
Photo matrix
32 Mpx
Optical zoom

Digital zoom

Flash

Additional
FF, f/2.2
Samsung Galaxy Note 10 Lite - Technical specifications
Display
Color / Super AMOLED
16M colors
1080 x 2400 px (6.70") 402 ppi
∼87.0% screen-to-body ratio
Standard battery
Li-Ion 4500 mAh
Quick battery charging
Fast Charging
Wireless battery charging

Operating system
Android 10
Processor
Samsung Exynos 9810
Processor clock: 2.70 GHz
Number of cores: 8


GPU: ARM Mali-G72 MP18

RAM memory
6 GB, 8 GB
Internal memory
128 GB
DualSIM

Samsung Exynos 9810
Processor clock: 2.70 GHz
Number of cores: 8


GPU: ARM Mali-G72 MP18

SIM card standard
nanoSIM

First camera

Camera location
Back
Photo matrix
12 Mpx
Optical zoom

Digital zoom

Flash

LED
Additional
f/2.2

Second camera

Camera location
Back
Photo matrix
12 Mpx
Optical zoom

Digital zoom

Flash

LED
Additional
AF, OIS, f/1.7

Third camera

Camera location
Back
Photo matrix
12 Mpx
Optical zoom

Digital zoom

Flash

LED
Additional
AF, OIS, f/2.4

Fourth camera

Camera location
Front
Photo matrix
32 Mpx
Optical zoom

Digital zoom

Flash

Additional
AF, f/2.2
Source Samsung